Foresters Financial™ (Foresters), the fraternal life insurer that's boldly redefining the life insurance industry through innovation, purpose, and wellness, and Whole Cities Foundation, a nonprofit established by Whole Foods Market, improve individual and community health through collaborative partnerships, education, and broader access to nutritious food. This opportunity will enhance community partner garden/farm spaces through a $2,000 grant and hands-on support. Foresters Financial funds this grant.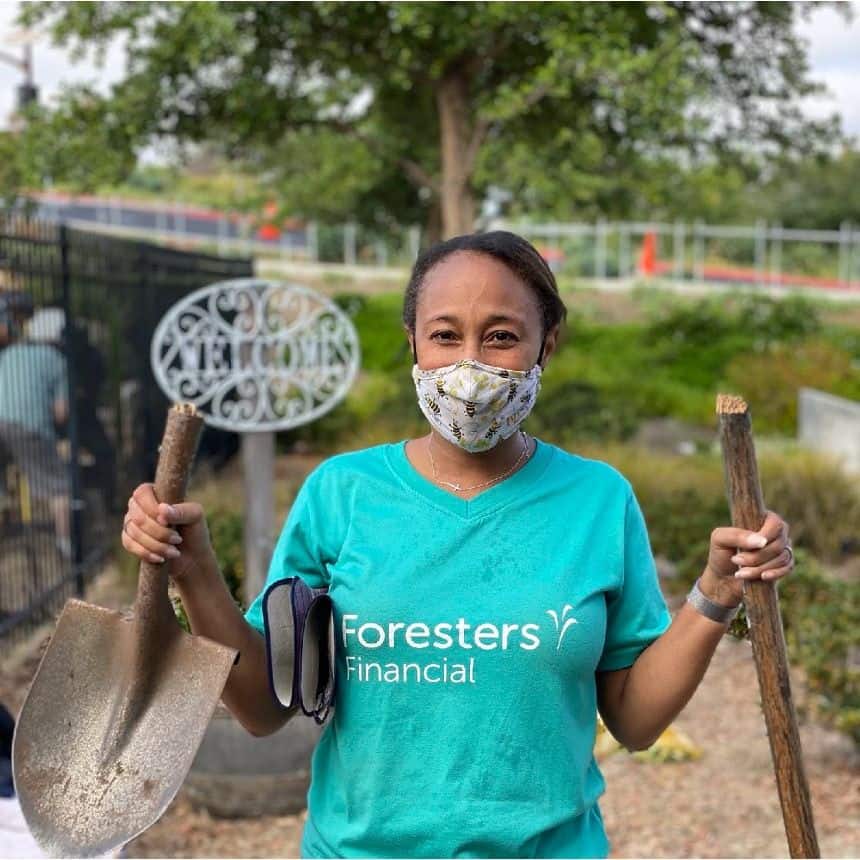 PARTNERSHIP FAQ
HOW MUCH IS MY GRANT?
Whole Cities Foundation grant is $2,000 funded exclusively by Foresters Financial.
HOW WILL I APPLY FOR THIS OPPORTUNITY?
This is an invite only grant opportunity. You will be contacted with how to complete your application.
HOW CAN I USE MY GRANT?
The grant is intended to purchase materials to complete the project for the volunteer event and any unused funds can be used as ongoing support of the garden.
WHO SHOULD I CONTACT IF I HAVE QUESTIONS?
If you have any questions, please contact Chanta Williams at chanta.williams@wholefoods.com.
IS THERE ANYTHING I HAVE TO DO AFTER THE EVENT?
Yes, directly following the event please complete our post event survey and share any pictures from the day of the event. There will be additional instructions for you to complete a progress report about your garden months after your projects have been completed.
WHO WILL WE WORK WITH TO PLAN THE VOLUNTEER EVENT?
A local Foresters Financial member coordinator would be your point person for planning the event. Please note we are all very flexible and understanding of any COVID-19 safety measures that your organization may be taking.
ARE THERE ANY PARAMETERS FOR THE EVENT?
Yes, this is a one-time, in-person, family-friendly volunteer event. Expect 5-20 Foresters member volunteers to attend. Events are typically 2-3 hours and take place during the weekend. We'd love to have activities planned for Summer 2022 or Fall 2022.
WHAT TYPE OF LEAD TIME IS NEEDED TO PLAN THE EVENT?
All events require a minimum of a 10-week lead time to complete crucial administrative tasks and adequately plan the event.
MEDIA
There are plans for some media pitching in a few markets. Your organization may be contacted by us to request the presence of media ahead of or during the event. We never know ahead of time if the story will be picked up or if media outlets will make it out to an event. If they come out, they are likely to want b-roll footage of your organization and interviews with organizations officials. Please ensure this is a right fit for you and your organizations and let us know immediately if this poses any challenges so that we may address them ahead of any request.
After the event, we ask that you share a few high-resolution pictures that can be shared publicly in our channels and press releases. Please submit the images to info@wholecitiesfoundation.org. Please include the name of your school or organization and the date of your event:
Ex. WholeCities_01012022(Austin)1, WholeCities_01012022(Austin)2, WholeCities_01012022(Austin)3
TIPS FOR A SUCCESSFUL EVENT
Have a lead for the day of the event so volunteers know who can address their questions.
Communicate with volunteers during the event so they are always in the loop.
Get volunteers pumped and help them get to know your organization and its' needs.
Match their talents with responsibilities. Be sure to have clear responsibilities when volunteers arrive so that they can get right to work.
Share your event's success and encourage volunteers to do the same. Use our messaging toolkit below to help share it in your social channels.
Say thank you! Be sure to thank volunteers for their time.
POST-EVENT SURVEY
Complete the post-event survey to give us feedback to make the best events possible.
---
ABOUT FORESTERS FINANCIAL
Foresters Financial is quietly redefining the life insurance and individual savings industry across the U.S., Canada and UK by enriching the lives, communities, and overall well-being of its members. Giving back to local communities via its members is a fundamental element of its operating model. In 2019, Foresters contributed $11 million to local communities and mobilized 94,000 volunteers, who collectively gave 5,000 hours of their time – equal to a full six months of 24-hour days. Agents and members alike appreciate the turnkey-decisioned product offerings and end-to-end digitized processes that make it easy to get life insurance without traditional medical exams. State-of-the-art mobile tools help agents deliver tailored plans to prospective and current members.
Dedicated to its members' well-being, Foresters offers a suite of member benefits and is redefining the conventional life insurance model, bringing improved financial security and overall wellness to everyday North American families. Foresters recently merged with Canada Protection Plan to become a leading life insurance distributor in Canada. Foresters Financial is the trade name for The Independent Order of Foresters, the oldest non-denominational fraternal benefit society. For 20 straight years, The Independent Order of Foresters has received an "A" (Excellent) rating from A.M. Best.