In the middle of the Mojave desert, amidst the neon lights on the Las Vegas Strip, there's a vibrant, green community garden.
Most would think it's impossible to grow kale, lettuce, and turnips in the dry Nevada heat, yet community-based nonprofit organization, Vegas Roots, is leading the way.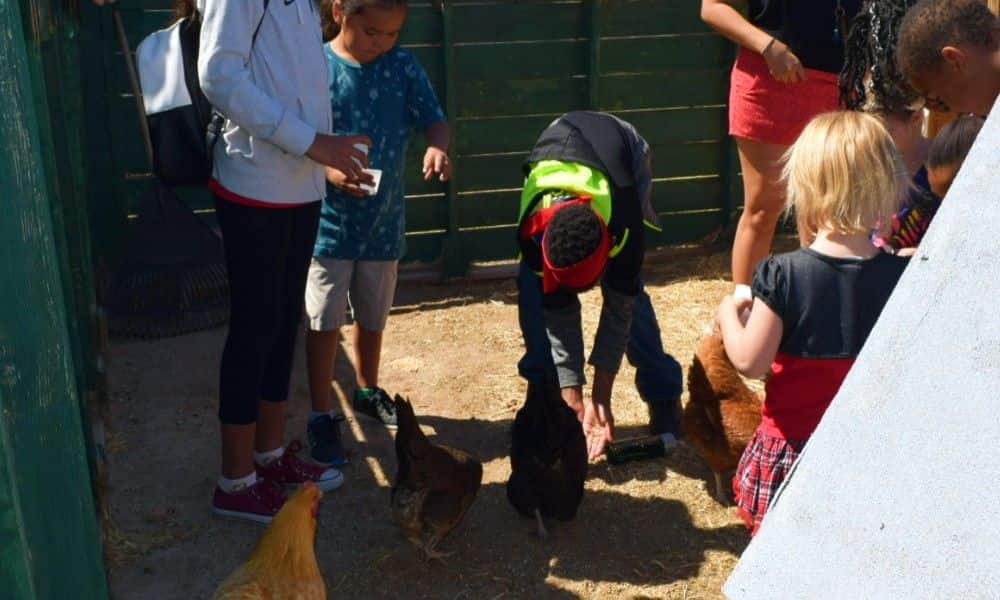 Vegas Roots was awarded a $5,000 Whole Cities Foundation Community First Grant in 2018 for their work to increase access to fresh, healthy food. That grant was the catalyst for two additional streams of funding, thanks to dedicated Whole Foods Market Team Members and shoppers who wanted to help Vegas Roots grow even more.
How did this all come about? Enter Gabby Thomas, the Whole Foods Market Tenaya Team Member who nominated them for a Community First Grant. Gabby has been with Whole Foods Market for 5 years and has always found ways to let her passion for community involvement shine through.
We sat down with Gabby to chat more about her partnership with Vegas Roots.
---
What first sparked the idea to nominate Vegas Roots for a Community First grant?
Part of my mission at Whole Foods is definitely the Foundations. I'm really passionate about our community involvement and want to make sure that stays consistent in our stores. I saw the grant open up and I thought, "Oh My Gosh, what a wonderful opportunity to actually impact this organization in a bigger way and help them expand."
Is the partnership solely between you and Vegas Roots or are there other Team Members involved?
The Team Trainer Group has started volunteering, and actually, after [Vegas Roots] got the grant from Whole Cities, they were the 5% Day recipient for our metro, like two months after getting the grant. So it's been really awesome for them because there's been this snowball effect of all of the stores starting to recognize who they are. So hopefully we've been able to raise more awareness of who this community garden is and what they're all about and how they're really impacting our community.
*Several times a year, Whole Foods Market stores hold community giving days (otherwise known as "5% Days") where five percent of that day's net sales are donated to a local nonprofit or educational organization. 
Vegas Roots seems to have a lot going on, can you tell us a little more about their programs and market?
They have a lot of different things going on there. It's a really awesome facility. They started with an empty lot and on the perimeter have planted You-Pick Trees and created a walking track to get people moving. There are kids garden plots, rentable plots for adults, and tons of tools for the community to use. They have a "You-Pick" center where the community can go and pick their own produce for about $2/lb. Then they also have a little area where they host cooking demonstrations!
That's amazing! How else has the store contributed to Vegas Roots' programs?  
Before they got their Community First Grant, we set up change jars to see how the community would respond to leaving donations. We raised $900 in change in just three weeks which sponsored plants for a year for 8 gardeners.
Can you share what work they've completed with their funding?
With the Community First Grant, they've been able to revamp their area for chickens. It is SO CUTE! They put toys in there and personalized it. And I didn't mention this earlier, but they also have a bee farm by the trees, so they're really trying to broaden their horizons.
*Every fall, our sister organization Whole Kids Foundation opens applications for its Bee Grant program which allows for a K–12 school or non-profit organization to receive support for an educational bee hive.
What would you tell other Whole Foods Team Members who are considering applying for the Community First Grant Program?
Oh, just do it!!!! It's such an easy process. If there's someone you believe in, or even just you've heard of, I think it is a wonderful opportunity to really impact your local community, and to see it in action, see it actually impacting where you live.
---
Gabby was able to take one initial grant idea and grow funding in additional ways that involved her local store and community. She has reapplied for the 2019 Community First Grant Program and is setting up a volunteer team to mulch the Vegas Roots garden in the fall.