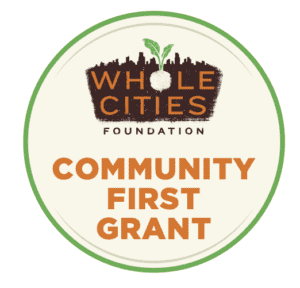 The Community First Grant Program supports nonprofits focused on long-term fresh, healthy food access and nutrition education that are engaged with Team Members. This includes community gardens, mobile markets, healthy cooking classes and more.
To date, we have awarded 283 grants in 120 cities, investing $1,731,000 with the help from over 160 Team Members who both nominate the organizations and commit to volunteering with them during the grant year.
Thank you to everyone who submitted a Team Member nomination this year! The 2022 CFG nomination period is now closed. Team Members will be notified in mid-August if their partner will be invited to complete an application. Check out our timeline below for more info. Email our team at whole.cities@wholefoods.com with questions.
After the TM nomination period closes on June 15, the TM review panel reviews nominations then WCF extends invitations to eligible orgs to complete grant application. Then, WCF reviews org applications and final CFG partners are awarded an $8,000 US / $10,000 CAD grant. Throughout the grant year, TMs and orgs submit a mid-year and final report about partnership and progress towards their goals.
Get prepared by viewing a sample Team Member nomination form here and a community partner sample application here. We typically receive a rush of questions in the last couple days of an open window and 90% of nominations on the last day. Don't wait! The earlier you ask your questions and start your nomination form, the less stressful the process will be.
Download huddle topics about Whole Cities and Community First Grant:
Since 2016, Team Members have nominated organizations in over 100 cities! Help share with your fellow Team Members about the amazing CFG work being done in your region.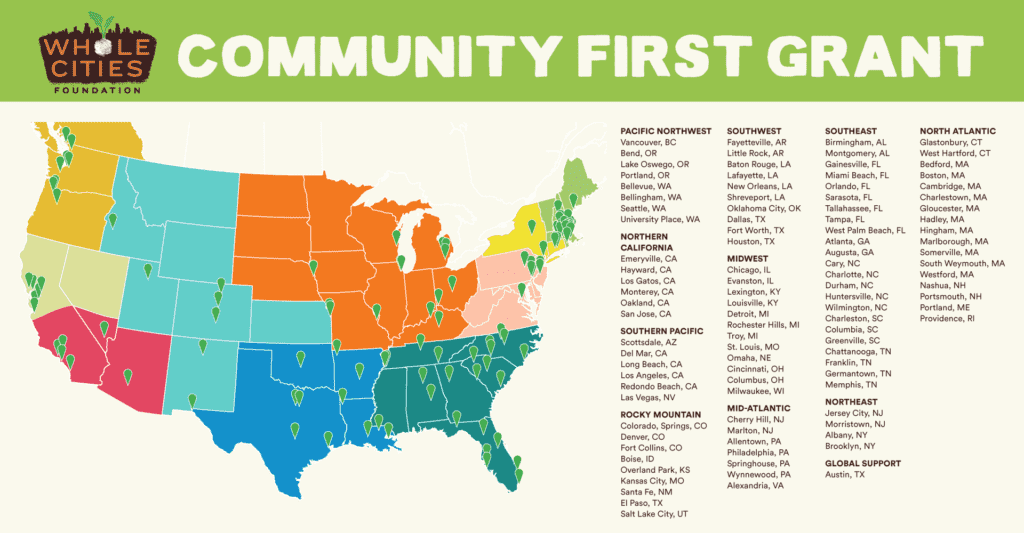 Webinars and Events
Download and print an 8.5″x11″ event poster here to hang by time clocks, in break rooms and to post in logbooks.
Community First Grant > Get Started Webinar
Get ready for the Community First Grant (CFG) nomination window with our Get Started webinar recording (30min). Learn about the CFG program, the types of community partners and how to engage with a new potential partner.
Virtual Field Trip > About Fresh
Journey to Boston, MA and join one of our North Atlantic Community First Grant partners, About Fresh, on a virtual field trip to their mobile market, Fresh Truck.
Community First Grant Q&A
With the Community First Grant nomination period in full swing, join the Whole Cities foundation team to ask questions about your partner's eligibility and what Team Member engagement looks like during the year.
Advice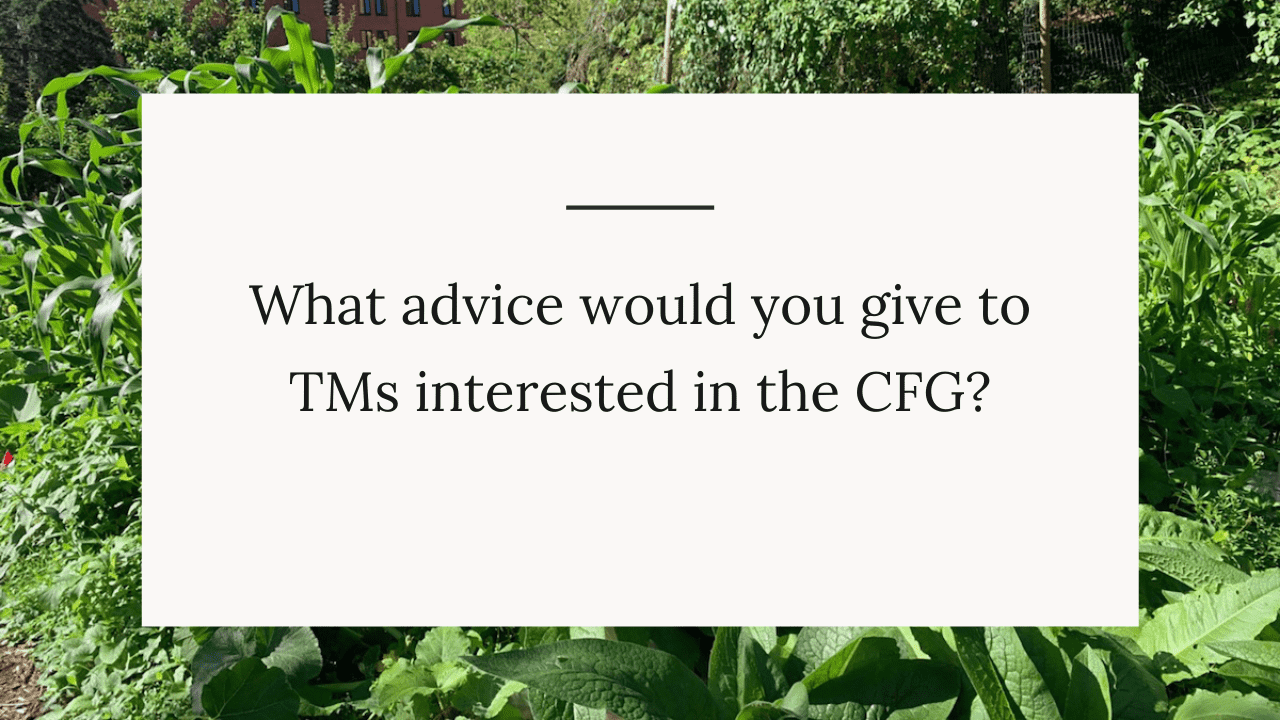 Learnings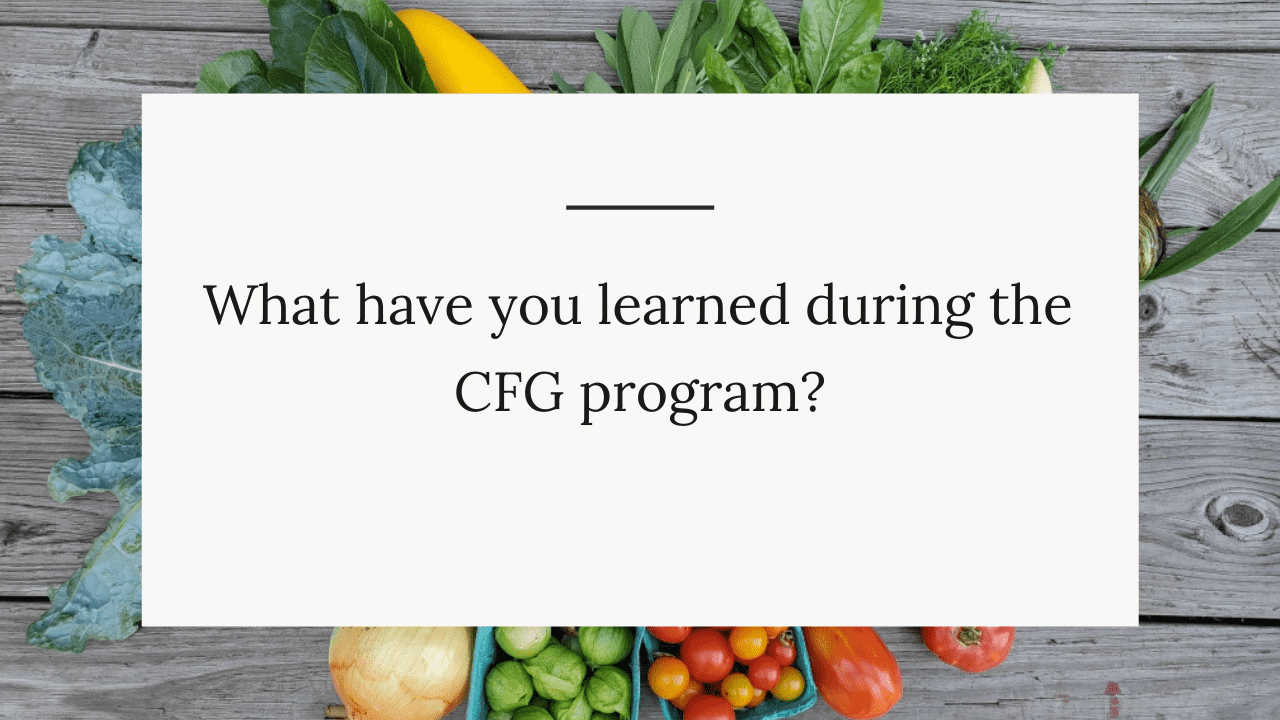 Proud Moment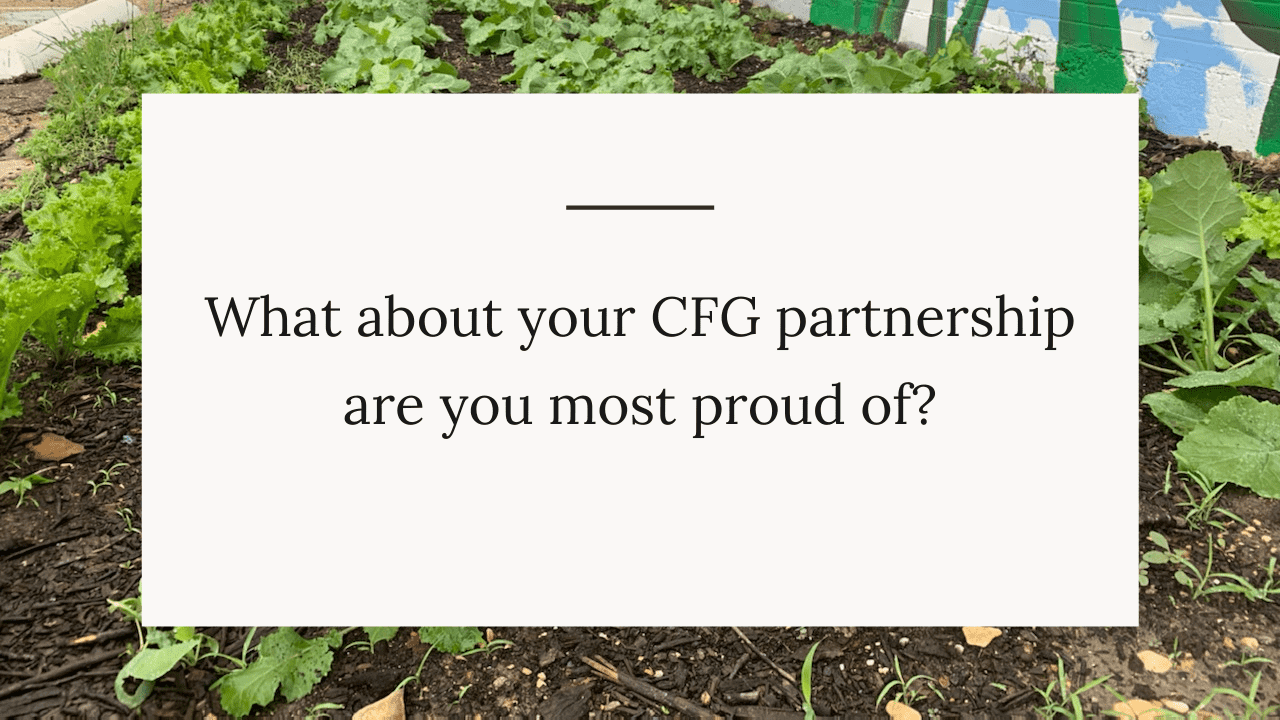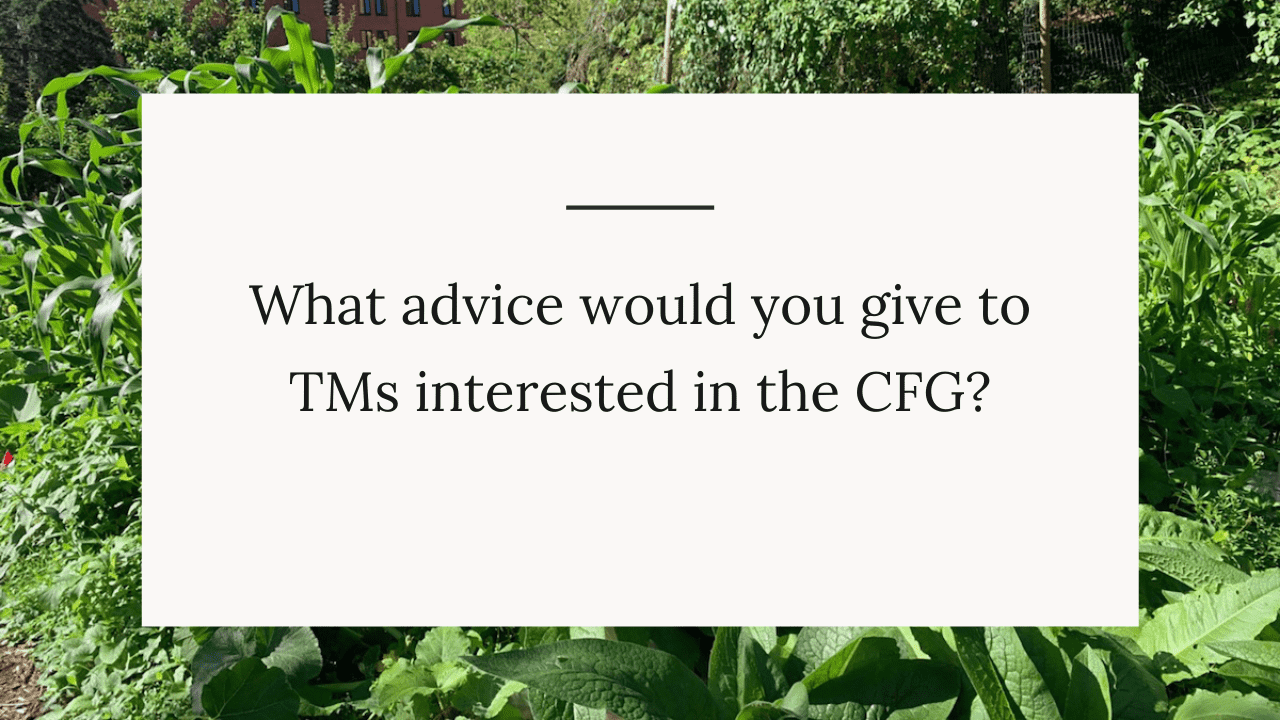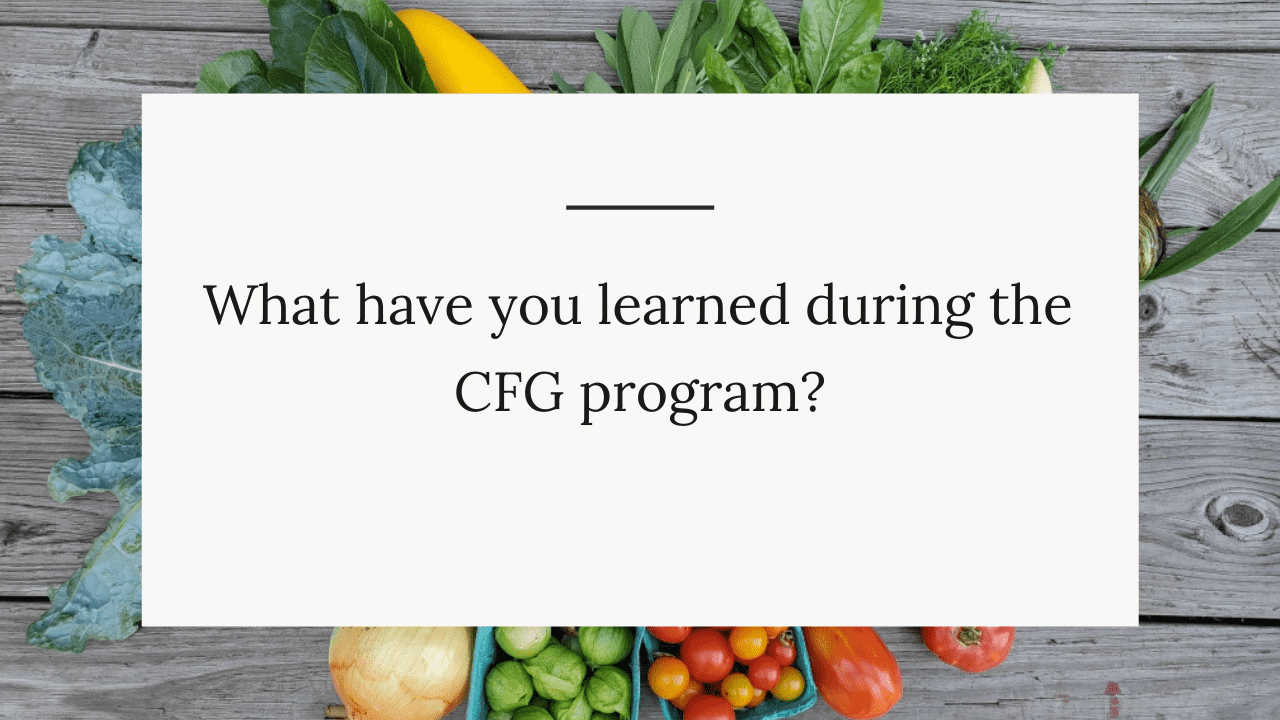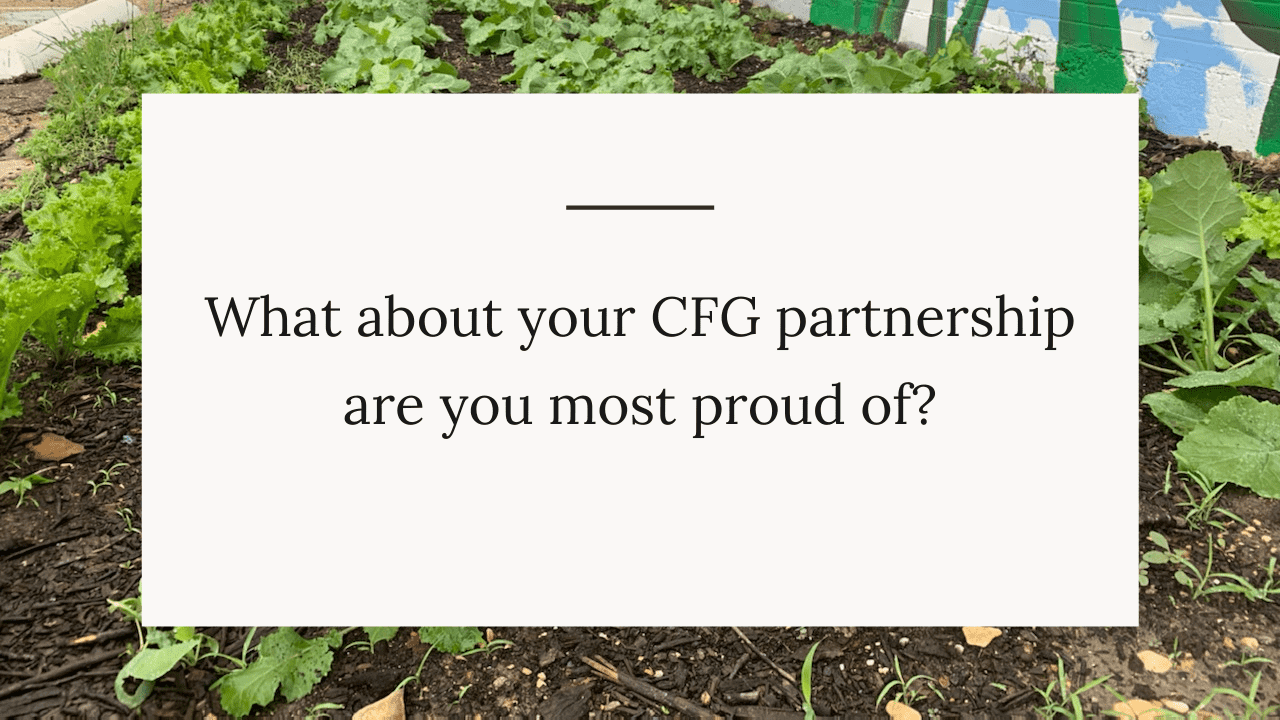 Meet previous Community First Team Members and check out their bios from 2021, 2019 and 2018.
---
Important Dates
| | |
| --- | --- |
| May 3 | TM Nominations |
| June 15 | STL/TL Support Form Due |
| June 15 | TM Nominations Close |
| July | TM Review Panel |
| Mid August | Eligible Orgs Invited to Apply |
| Early November | CFG Partners Announced |
Team Member Eligibility
To nominate a community partner, you must:
Be a Whole Foods Market Team Member in good standing.
Ask your STL to complete an STL Support Form by June 15. If you're an office TM please have your Team Leader complete the form and if you're a Facilities TM, please have your FTL complete the form.
Be able to volunteer with your nonprofit community partner and must be done on personal time. No compensation will be provided from Whole Foods Market or Whole Cities Foundation.
Nominate a community partner willing to complete an online Community First Grant Program Application. The application will include questions regarding the organization's work, leadership, impact, community engagement, long-term plans, and finances.
Nominate a community partner focused on expanding long-term fresh, healthy food access or offering healthy cooking classes. This grant will not be a good fit for food pantries, food banks, and other food donation/redistribution programs.
Nominate a community partner primarily focused on serving adults. The Community First Grant will not be the best fit for community partners that focus primarily on children or schools. Visit our sister foundation, Whole Kids, to learn more about their grant programs.
Be willing to submit a short mid-year and end of the year update including a brief summary of how things are going and photos of your partnership in action.
Interested in participating?
This is a snapshot of what participation looks like:
Volunteering
CFG Team Members volunteer with their community partner throughout the year. From monthly days in a community garden to hosting a mobile market team in your store to talk about merchandising, this can take any shape that works for you partner and your store and keeps everyone safe in the process.
Connecting
Each month, the Whole Cities team sends an email to CFG Team Members or hosts a webinar. These monthly connections are designed to share best practices, support CFG partnerships, and keep CFG TM in the loop on upcoming deadlines and opportunities. The calls will be recorded, so that TM who are unable to join or do not have approval from their TL to join live, can still access them.
Spreading the Word
Some of the strongest partnerships start off with one passionate Team Member and grow to include dozens of Team Members from their store or even multiple stores! CFG Team Members who spread the word about their amazing community partner and upcoming volunteer opportunities can build momentum for their partnership. This could include sharing information about your partnership at team huddles or posting a signup sheet for a volunteer day in BOH.
Additional Resources