Whole Cities Foundation believes that community members know best. Guided by our Community First Principles, we have a deep respect for the powerful work that exists in local food systems, so we aim to listen carefully to community-led organizations to understand their specific needs, then support and amplify their efforts. The goal of partner spotlight stories like this is to share their stories, create connections and help spark inspiration for other organizations on their journey of community self-determination.
---
Austin, Texas is one of the fastest-growing cities in the U.S., a hub for startups and innovation and touted for its quality of life. Yet, an estimated 18% of adults and 26% of kids in Travis County do not know where their next meal is coming from due to historical policies and practices that have undermined Black and Latinx Austinites' economic success and inclusion for decades. To learn more about this history, keep reading.
Enter Farmshare Austin, a community-led nonprofit that embodies the city's entrepreneurial spirit in their mission to grow a healthy local food community.
Founded in 2012, Farmshare envisions a future of resilient local food economies that ensures equitable access to food and the resources needed to farm. In working towards their goals, the Farmshare team takes a holistic three-pillar approach: farmer training, food access and land preservation.
Take a virtual field trip with the Farmshare team and see how they are working to build a healthy local food community.
Growing the Next Generation of Farmers
Farmshare launched its Farmer Starter program with a key objective to grow more Central Texas farmers to strengthen the local food system. The immersive 20-week farmer training program is designed to provide aspiring farmers with the essential skills and training needed to manage a sustainable farming business. Much of the program takes place on the organization's 10-acre working, certified organic, diversified vegetable farm.
Farmer Starter's curriculum combines hands-on in-field experience with classroom learning focused on growing techniques, farm planning and business skills, plus weekly field trips to other farms and agricultural enterprises. Currently, two sessions are held each year.
"One of the principles behind sustainable, regenerative agriculture is that we are caring and stewarding the entire ecosystem," explains Michelle Akindiya, Farmshare's Education Director. "Something that makes Farmshare really special is the way we are able to cultivate new farmers through Farmer Starter and spread knowledge and passion about caring for the earth and feeding our community."
Learn more about Farmer Starter.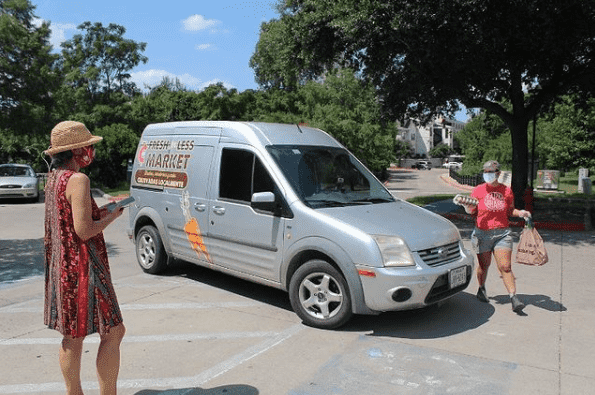 Food Access: Fresh for Less Mobile Markets & Curbside Delivery
Farmshare's Fresh for Less programs increases food access in neighborhoods facing economic and geographic barriers to healthy food in Austin's Eastern Crescent, Del Valle and in Bastrop County. The organization sells produce grown on their teaching farm, produce from other Texas farms, plus high quality, shelf-stable food products — all at reduced prices and eligible for SNAP.
The Mobile Markets began in 2016 in partnership with the City of Austin and have since grown to include 13 sites that improve the availability of healthy, sustainably produced food to portions of the population that have the least access to it. Farm stands were set up at community health centers, YMCAs, schools, a church, library and at a low-income apartment complex.
Then, in March of 2020, the pandemic forced the markets to close. Remarkably, within a few weeks, Farmshare innovated and launched a new program, home Curbside Delivery. By April, they had even temporarily partnered with Austin's transit agency to have bus drivers help with home deliveries while their ridership was down. Customers can order online or on the phone, and fresh produce and shelf-stable groceries will be delivered to their home with no delivery fee and no minimum order.
Learn more about Fresh for Less.
Land Preservation: Farmshare Land Link
Austin is located in Travis County, which has lost 25% of its farmland during the past 11 years. (Nine acres are lost each day!) Farmshare, however, is dedicated to keeping area farmland as farmland. So, since February 2019, the nonprofit has worked through its Land Link program to connect local landowners with growers and farmers looking for land.
Landowners and land seekers complete online forms describing their needs, and Farmshare connects potential matches and, as needed, offers consulting to both parties to assess the opportunity. The program is currently the only one of its kind in Texas.
​ Learn more about Farmshare Land Link.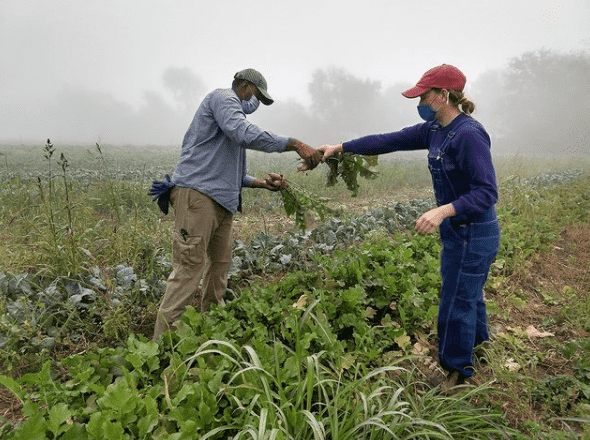 Resilient Growth
The pandemic has brought to the forefront the need for more resilient local food systems, and Farmshare's mission and successes are more critical than ever. Despite the challenges of 2020, the dynamic Farmshare team continues reimagining their programs to strengthen food access in Central Texas.
A few 2020 milestones include:
Harvested a record 22,000 pounds of produce (most of which went directly to their food access programs) from January 1 .
Continued Farmer Starter throughout spring and fall 2020 by moving classes online.
Received a record number of spring 2021 Farmer Starter applicants.
Like-minded Partners
United by the belief that everyone has the right to fresh, healthy food, Whole Cities Foundation and Farmshare began working together in 2016 when we awarded them a Community First Grant. Then we deepened our commitment with four Special Projects Grants to help Farmshare purchase essential equipment including vehicles for their Mobile Markets and Curbside Delivery, investing more than $61,000 since the partnership's start. Whole Cities Foundation is honored to help champion and help amplify Farmshare's work.
---
Austin's History of Segregation
Austin has long been a divided city — both geographically and economically. In 1928, the city's Master Plan forced Black communities to move to East Austin, which created a segregated society and inconsistencies in funding, resources and services. Austin American-Statesman reports that around the same time, the city's Latinx population began to soar and discriminatory language in deed restrictions and private covenants shifted from 'no people of African descent' to 'Caucasian only'. This limited Black and Latinx residents' ability to own property and ultimately, create wealth. Decades later, the repercussions of these and similar public and private acts of segregation continue to impact Austin.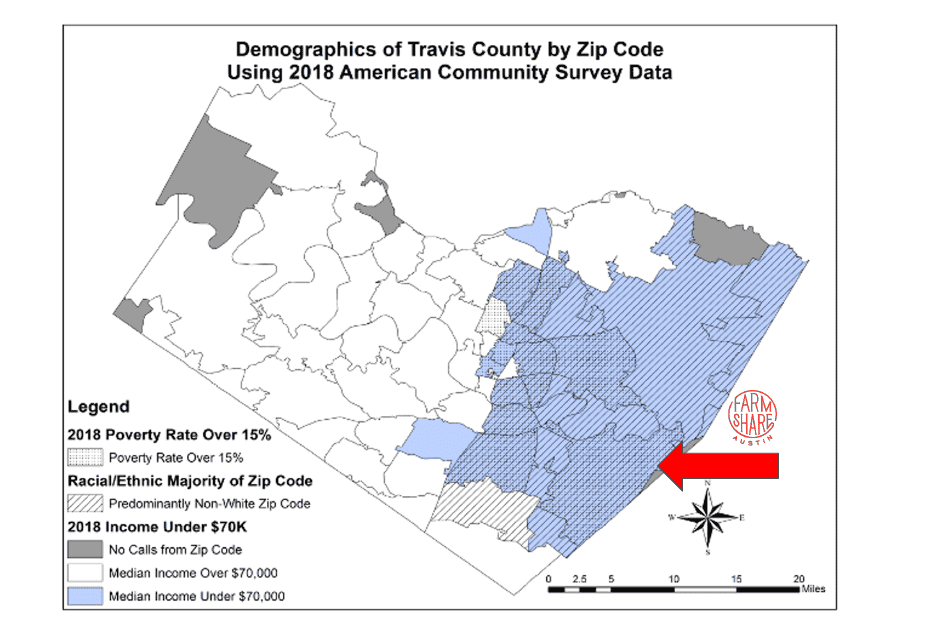 Today, as the cost of living continues to rise in Austin, wages have not kept up. This has forced many Black and Latinx residents to move even further away from the city center. They become cut off from economic opportunities and experience substantial disparities in income, education and access to basic needs like affordable healthy foods, public transportation and internet services. And so, the region's prosperity gap continues to widen.