Whole Cities Foundation believes that community members know best. Guided by our Community First Principles, we have a deep respect for the powerful work that exists in local food systems, so we aim to listen carefully to community-led organizations to understand their specific needs, then support and amplify their efforts. The goal of partner spotlights like this is to share their stories, create connections and help spark inspiration for other organizations on their journey of community self-determination.
---
Challenging local food environments. Legacies of redlining. Economic disinvestment. These are some of the barriers to health and wealth for under-resourced communities of color. They were also the catalysts behind the launch of Oakland-based Mandela Partners in 2004.
Today, the non-profit organization is building systems of change that uplift local food and economic opportunities through partnerships with local residents, family farmers and community-based businesses.
"We promote community development and growing opportunities at the neighborhood level by using food as a vehicle for change."

— Ciara Segura, Director of Programs and Policy at Mandela Partners.
RESIDENT INFORMED & RESIDENT LED
Mandela Partners' work is centered on a practice of community-led and community-directed development. "We work hard to identify what communities want and develop programs that are responsive to their vision for change," explains Ciara Segura, Mandela Partners' Programs & Policy Director.
Since its beginning, the organization has been leading community-centered initiatives to address two competing food access challenges: Ensuring fair pricing for small farmers of color who grow sustainably while simultaneously keeping the cost of healthy food affordable for under-resourced communities.
Mandela Partners layers together several different areas of programming including:
Sourcing from small, local, limited resource farmers, who use sustainable practices
Creating affordable food access points at the neighborhood level
Supporting food-based business development
"We work to create programming that is a robust infrastructure for food businesses, food commerce and food access work to thrive," describes Ciara. "Programs work in tandem to help ensure local dollars are being put back into the most disinvested communities and stay with the most disinvested communities."
Take a virtual field trip with Mandela Partners and get a snapshot of their core areas of work in action, and then read on to learn more.
FARMER NETWORK
Mandela Partners established their own in-house food hub, Mandela Produce Distribution,
which supplies community retailers and institutions with locally sourced produce and provides limited resource farmers of color access to new markets, logistics support and financing. It prioritizes sourcing from small family farmers who grow sustainably (adopting organic and pesticide-free practices) and are located within a 150-mile radius of Oakland. Currently, the hub works with about 20-25 farms throughout the year, each on less than 100 acres.
Learn more about Mandela Produce Distribution.
FOOD ACCESS PROGRAMS
Mandela Partners' food access programs were created to secure residents' right to access fresh, affordable and healthy food. Here's how:
The Healthy Grocery Initiative
Small corner stores are often the only available food access points in many of the Oakland neighborhoods Mandela Partners serves, and the organization sees them as an asset with enormous potential. "The intention of the Healthy Grocery Initiative is to create an environment of health within a space that may traditionally not be seen as so," explains Mariela Cedeño, Mandela Partners' Interim Executive Director.
The Healthy Grocery Initiative's primary goals are to advance corner stores as viable, affordable and health-promoting retail access points and to increase the stores' profits through healthier food sales. The program encourages the consumption of healthier food options through: store environment improvements, marketing, nutrition education, and sourcing and procurement assistance.
Learn more about the Healthy Grocery Initiative.
CSA
Before the Covid-19 pandemic, Mandela Partners managed a Community Produce Stand program comprised of a network of weekly pop-up markets throughout Oakland. In response to the pandemic however, the organization transitioned to a Community-Supported Agriculture (CSA) program that allows consumers to buy local, seasonal food directly from a farmer through a membership or subscription service.
Working through Mandela Produce Distribution, the program is able to support small, local family farmers that use sustainable practices. Thanks to a sliding scale model, the CSA offers healthy fruits and vegetables to all community residents weekly — regardless of income. Plus, a 50% discount is available for SNAP/CalFresh recipients. ​CSA boxes are available for weekly curbside pickup at locations throughout Oakland.
Learn more about the CSA program.
BUSINESS DEVELOPMENT
Mandela Partners also aims to uplift resident entrepreneurs, incubate small businesses, make capital more accessible to local business owners, foster job creation, and address barriers to employment among re-entry individuals.
"Food-based business development was part of the Mandela model from the inception because that's what residents saw as a key lever of building the health and wealth aspect together," shares Mariela.
Learn more about the Business Development program.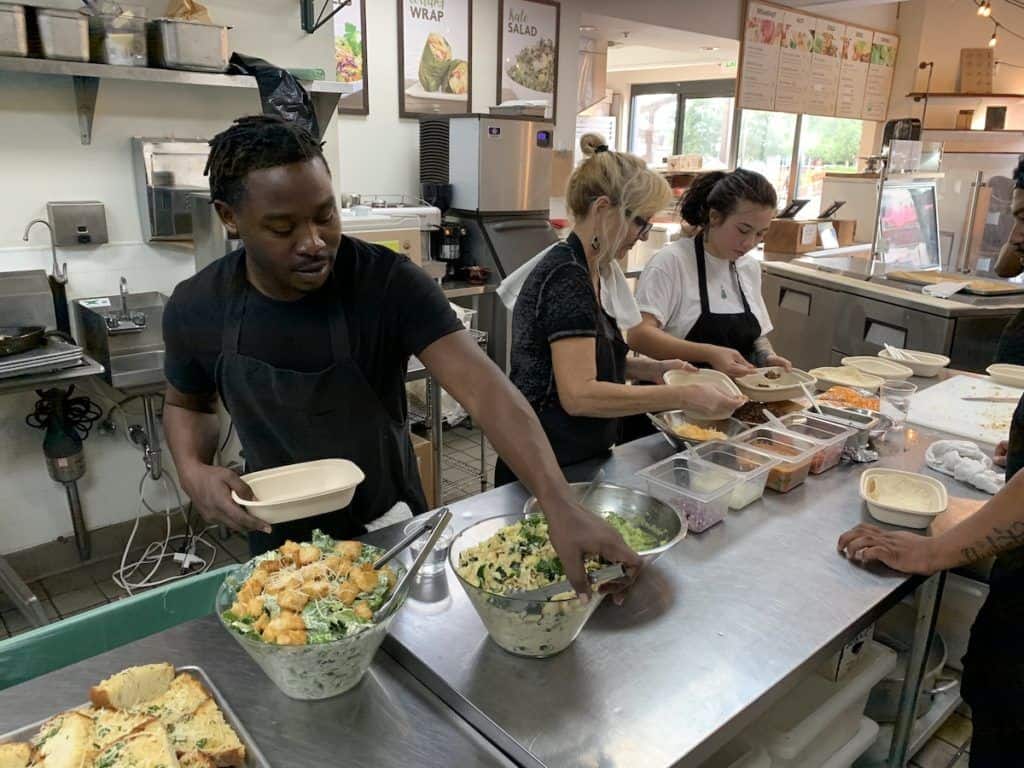 IMPACT
Mandela Partners' goals to create long-term health and economic opportunities in partnership with under-resourced communities were as important as ever in 2020. A few milestones include:
Sourced more than 200,000 pounds of produce from 25 local, limited resource farmers of color.
Adapted from a Community Produce Stand model to a successful CSA program to sustain a sales channel for these farmers and yet reach customers in a safe way.
Created $215,000 in sales opportunities and provided complimentary grants to local Black- and POC-owned and operated food businesses.
Directly supported 32 local entrepreneurs of color through one-on-one advising and workshops.
UNIFIED IN A MISSION
Whole Cities Foundation began working with Mandela Partners in 2017 when we awarded them with a Community First Grant. Then we deepened our commitment with a second Community First Grant in 2020 to support their new CSA program. Mandela Partners is committed to supporting community self-determination, and we are honored to help amplify their efforts in Oakland.