Whole Cities Foundation believes that community members know best. Guided by our Community First Principles, we have a deep respect for the powerful work that exists in local food systems, so we aim to listen carefully to community-led organizations to understand their specific needs, then support and amplify their efforts. The goal of partner spotlights like this is to share their stories, create connections and help spark inspiration for other organizations on their journey of community self-determination.
---
"No matter where you are or who you are — food brings people together."
— Mike Minnis, co-founder and projects coordinator at Landmark Training Development Company
---
Eat well to live well. Mike and Karen Minnis, the founders of Landmark Training Development Company, work hard to bring this — their guiding principle — to fruition in Memphis, Tenn.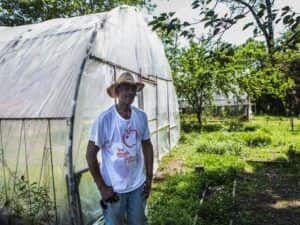 Landmark Training was established in 2008 in the Orange Mound neighborhood, an area which faces many barriers to fresh, healthy food access. In response, the community-led nonprofit takes a multi-pronged approach to both community health and advancing fresh, healthy food access because they understand the two go hand-in-hand. It is this combination of creating pathways to access and education that has been critical to Landmark Training's work.
"This allows people to recognize the value that plant life has to our overall function," explains Mike Minnis, co-founder and projects coordinator at Landmark Training. "You could put multiple grocery stores right next door to a person but if they don't have any insights as to what good nutrition is they will continue to eat the processed food and skip over the good stuff."
Landmark Training operates a farmer's market, a youth urban farm training program, a food pantry and an urban outreach center. And at the center of it all is a half-acre farm which houses several gardens, a man-made catfish pond, fruit tree orchard, chicken coop, bee hives, hydroponics and four high tunnels.
This small urban farm produces more than two tons of food annually and serves as both a source of fresh, nutritious food for community residents and as a training facility. The farm also sells a portion of its organic produce to retailers such as Whole Foods Market as part of Landmark Training's commitment to self-sufficiency through agriculture.
Take a virtual trip to the farm with Mike and Karen Minnis, get a glimpse of Landmark Training's values in action, and then read on to learn more.
Farmer's Market
"No matter where you are or who you are, food brings people together," said Mike. This statement is brought to life on the farm, especially at Landmark Farmer's Market. The year-round indoor market offers fresh food, as well as locally made products like teas, pickled produce, relishes, honey and jams. Much of the food sold at the market is grown and harvested by the staff and volunteers because Landmark Training aims to serve as a center for community involvement too.
Landmark Training sees the market as an opportunity to encourage more sustainable methods of food production, offer a convenient location for neighbors to support urban agriculture, and share the connection to and joy of fresh, healthy food.
Youth Training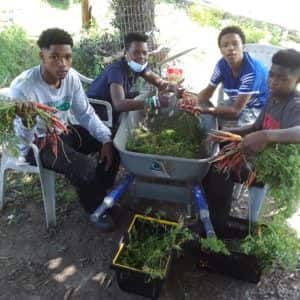 The Youth Urban Farm Training Program is a year-round paid apprenticeship for local youth. Apprentices learn the fundamentals of urban farming, because they are involved in all parts of nurturing the farm from planting, weeding and harvesting to composting, marketing and outreach. Participants have opportunities to develop leadership, teamwork, communication and problem-solving skills.
While growing fresh produce for their own community, they not only learn about agriculture and healthy food, but they also get first-hand lessons on food justice and the environment.
Food Pantry
Both food access and food redistribution are important. While Whole Cities focus is on long-term food access, our partners often work across a spectrum. As Landmark Training works to create a resilient and sustainable local food economy, they also manage a food pantry to address local hunger immediately. The team firmly believes everyone deserves to have fresh, healthy food in their home, so the food pantry is open five days a week.
During the pandemic, the pantry did not close, and its client roster swelled from 2,000 to more than 5,000. "Something that we've come to recognize during the pandemic is that we need each other," explains Mike, then adding "This coincides with Landmark Training's activities in the community to the extent that we want people to recognize that collectively we can make things better."
Growing Together

Shortly after Whole Cities Foundation launched in 2014, we supported Landmark Training with a $4,800 grant followed by Community First Grants in 2018, 2019 and 2020. Over the years, we have invested a total of $22,500 in their high tunnels, hydroponic system, and value add production programs. Landmark Training is committed to improving community health and increasing economic opportunities for residents through fresh, locally grown food, and we are honored to support those efforts in Memphis.