Our Community First Principles define our approach to building partnerships with community-led organizations to build thriving local food systems and grow community health. They help us meet the needs and reflect the desires of the people we serve, be respectful and responsive to different perspectives, and increase access to fresh food. Through our Community First Principles blog series, we are spotlighting our seven principles in action and examining what it means to bring to life the Whole Foods Market Core Value of "caring for our communities and the environment."
---
"I believe in the science, and I believe equally in people. This is how I build trust."

— Dr. Akua Woolbright, Nutrition Program Director at Whole Cities Foundation
---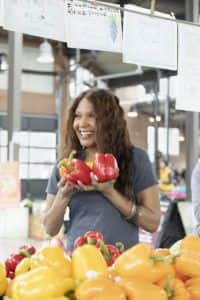 Detroit is where the vision, heart and principles of Whole Cities Foundation were born using communities' self-determined needs and desires as the lens for decision-making. In tandem and using the same people-centered approach, our Nutrition Program Director Dr. Akua Woolbright created and launched Let's Talk Food, a nutrition and personal coaching program.
Let's Talk Food's personalized approach enables participants to live their fullest, healthiest lives and move towards a more whole foods, plant-based, nutrient-dense diet. The program champions increased access to quality nutrition education and support for all people who are ready to take charge of their health — no matter where they are in their health and wellness journey.
Within the framework of Let's Talk Food, Dr. Akua conducts weekly healthy eating lectures, cooking demonstrations and support groups for hundreds of her students in Detroit, Chicago, Newark, and other cities across the U.S.
Helping Individuals and Communities Create Healthier Lives
Dr. Akua has dedicated her career to becoming a trusted resource and advocate who empowers people take control of their health. She earned her Ph.D. in nutritional science from Howard University, studied food as medicine, and worked as a public health nutritionist. She has extensive experience working in underserved communities supporting people of all ages to overcome harmful eating habits and prevent and reverse disease through plant-based diets.
Before joining Whole Cities Foundation, Dr. Akua helped create and implement Whole Foods Market's national healthy eating program. Now, at Whole Cities Foundation, she uses her decades of experience to give her students the evidence-based science, tools, inspiration and support they need to thrive and live well-nourished lives. In doing so, she embodies one of Whole Cities Foundation's Community First Principles: "Be Consistent to Our Message and Commitment."
Unwavering Beliefs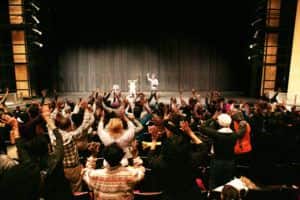 As a proven resource for sound nutrition advice and support, Dr. Akua works hard to earn and keep her students' trust. This is made possible by the two paramount beliefs at the center of her work: "I believe in the science, and I believe equally in the person. This is how I build trust," states Dr. Akua.
Essential to her steadfast commitment to science is ongoing studying and learning. She explains, "I'm going to the evidence, and I'm not afraid to change as the evidence changes." She then brings this current fact-based information to her students and provides clarity so they can more easily make smart food choices and commit to long-lasting solutions.
This allegiance to evidence-based information also means Dr. Akua's focus on fresh, healthy whole foods is firm in the face of temporary diet trends and conflicting wellness advice that circulates in popular culture.
Her second core belief is in the strength, resilience and the empowerment of the people and communities she supports. Dr. Akua recognizes that people are much more than their circumstances — especially in underserved populations. So, to make healthy eating and nutrition education more equitable, she shares the same nutrition information with everyone. Then, she puts the onus on herself to adapt her approach to be culturally relevant and relatable to each specific community she is supporting.
Dr. Akua says, "My job is to go back to the science, go back to the evidence, and bring the same exact messaging to all of the communities I serve. I'm not watering it down for anyone. The responsibility is on me to elevate my coaching and my approach to reach people where they are and to move them along on their health and wellness journey."
These enduring commitments are threaded throughout all of her work from community engagement to nutrition education to support. "I believe in the science and the people so deeply that I don't have any other choice but to be consistent," summarizes Dr. Akua.
Consistency for Long-Term Success
The dedication to consistency does not end with Dr. Akua. She models it then encourages it with her students to spark changes with life-long impacts.
"I'm trying to wake them up into the moment. I'm trying to inspire them to see themselves in the message and the solution," explains Dr. Akua then adding, "We look at the obstacles and the solutions. We do the goal setting. Then, it comes down to ongoing support for the long haul. I'm trying to give them something that is lasting."
Get Started
Interested in learning more or ready to take a step forward in your own healthy eating journey? Check out Meet Dr. Akua Woolbright of Let's Talk Food on our Healthy Food for All Podcast to learn at least one thing you can do today to begin making healthier choices.