Boston-based About Fresh is on a mission to strengthen communities by getting fresh food to the households that need it most. They have a two-pronged strategy to building healthier communities and cultivating a more resilient and equitable health care system:
Fresh Truck. Their mobile market program uses retrofitted buses to bring affordable, healthy and culturally relevant food to communities that otherwise lack access, and it serves as a platform for community organizing. The program added an

online ordering

option in early 2021, which allows shoppers to place orders in advance for pickup. They host 22 in-person mobile markets per week.
Fresh Connect. This tech-enabled food prescription program makes it possible for health care providers to prescribe food as medicine and empowers people with the money and flexibility to buy the foods they need to be healthy.
About Fresh is a three-time Community First Grantee with financial support totaling $21,000. Their most recent grant from Whole Cities Foundation in 2021 supported the expansion of Fresh Truck's online ordering capabilities.
Take a virtual trip to the About Fresh operations, get a glimpse of their values in action, and then read on to learn more.
Q&A with About Fresh
Our Senior Grant Programs Manager Dianna Purcell recently chatted with About Fresh Team Members Tori Strickland, Director of Communications & Partnerships, and Lorrin Van Evra, Development Manager. Check out what they had to say about increasing shoppers' purchasing power during the pandemic, the impact of inflation, their favorite (and least favorite!) aspects of their jobs, and more.
Dianna Purcell, Whole Cities Foundation: How has the demand for online ordering been since you launched, and how many orders a week are placed?
Tori Strickland, About Fresh: What we learned during the pandemic is that not only was there a disparity in terms of people being able to access food, but also with who was able to stay safe and how people were able to procure their food. That expedited our urgency to launch an online platform. Through e-commerce, we have been able apply some equity around safety when it comes to accessing our food.
There's been a really good response from our shoppers who appreciate it to bypass the line, especially if they have abilities barriers. E-commerce helps us respond to the diverse ways people are accessing our food. We're having anywhere from about 290 to 300 online orders a week.
Dianna: Could you speak a little bit about how the grant funds from Whole Cities Foundation supported your online ordering efforts?
Tori: To get an online store up and running, you have to get the online store up and running! That is quite the undertaking not only to get a store up and running but also making sure that our online experience mirrors the experience at our truck.
With this partnership opportunity, we really were able to be intentional with how we on-boarded our e-commerce experience onto our shoppers. I think this Whole Cities Foundation partnership and its funding opportunity was really a great accelerator.
Lorrin Van Evra, About Fresh: When we first applied for the grant, we only had four or five online ordering pickup locations. We have nine now — one is twice a week, so we can count that as 10 — so we've been able to double the availability for the community to order online with the help of this grant.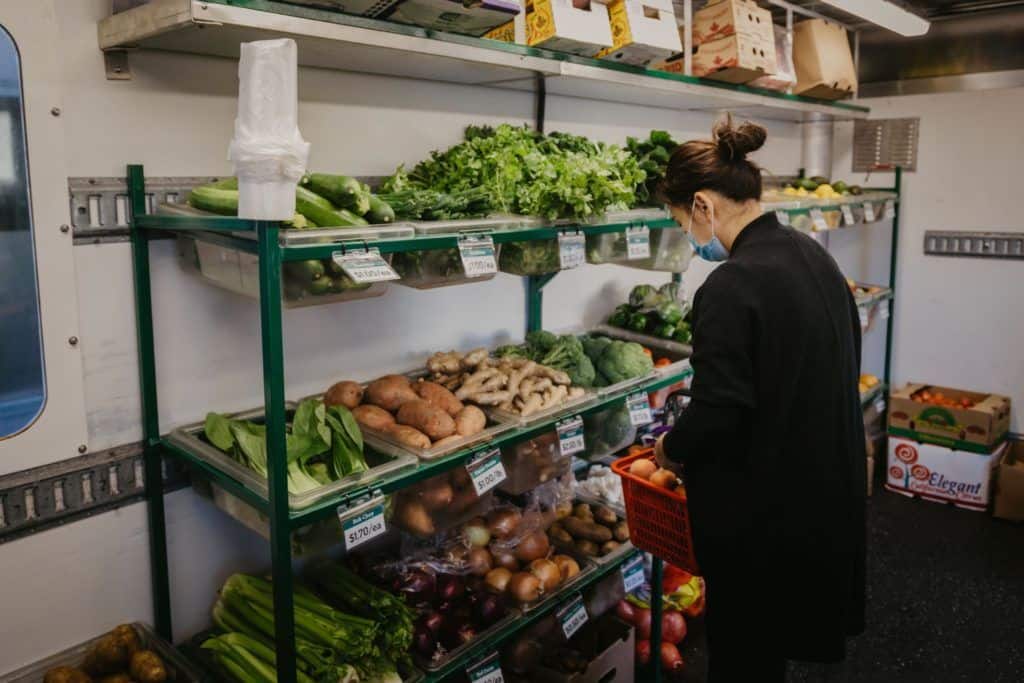 Dianna Purcell: In the virtual tour, you mentioned incentive programs. Could you just talk a little bit about how that works?
Tori: A large majority of our shoppers utilize SNAP and EBT benefits that they receive through state and federal dollars. Here in Massachusetts, we also operate a program called the Heathy Incentive Program, which every SNAP and EBT household is automatically enrolled in. All they have to do is have $1 on to their EBT card to be able to utilize that benefit. So, they are able to use U.S. dollars, specifically at farmer's markets, our mobile markets, etc.
We also operate our own fruit and vegetable-focused produce prescription program (Fresh Connect) that partners with healthcare institutions. We've expanded that program to be a full prepaid debit card that can now be used at not only About Fresh mobile markets, but also at other retailers, specifically for fresh fruit and vegetable purchases.  
Dianna: How has inflation affected your shoppers and About Fresh operations?
Tori: One of the anchors of our mission is affordability. Because of how we work with our wholesaler and because we are mission-driven organization, we've been able to work a bit more creatively and intentionally with our partners to reduce inflation's impact on our shoppers.
With inflation, we really try to keep consistency. We only adjust our prices, maybe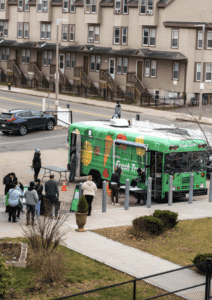 three times a year, if that. The markups on our food our slight, so there are no larger than 2%. And if it's an item we absolutely can't get to our shoppers at an affordable rate, we communicate that we might have to bypass that product. Ultimately, it's more important for us to maintain affordability and consistency for our shoppers, and our partners and partnerships allow us to do that.
Dianna: Have you all been with the local wholesaler for a long time?
Tori: Yes, we have Katsiroubas Bros, a Boston wholesaler. Not only are they a great partner, one of their team members is on our board, so we're always able to have creative conversations on their role in terms of food system and food equity change, but also how our collaboration is able to best support our shoppers in our community here.
We do work with other independent growers when the season allows. As I mentioned, consistency is really important for us. We really want people to get products that they recognize, they appreciate, and they come to the truck every week to see. But when we have seasonality, we're able to add additional items.
To maintain the volume and consistency that we sell through, we do a combination of wholesale and local growing.
Lorrin: We get a lot of questions about why we don't accept donated goods, and it's because we care about the consistency and the reliability that our shoppers have.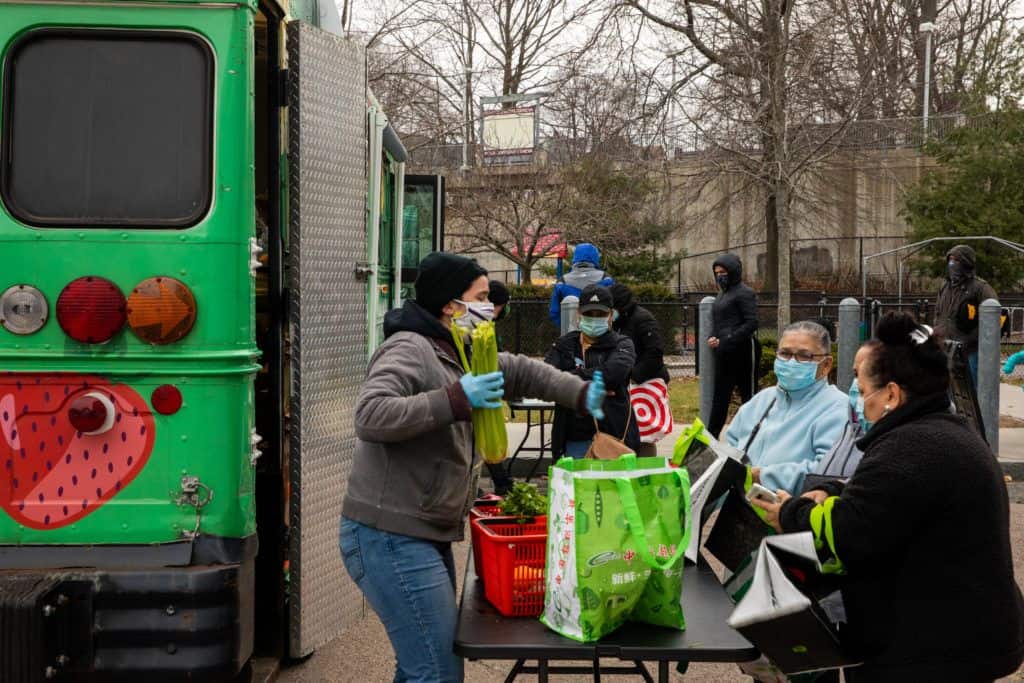 Dianna: What do you think is important for Team Members to keep in mind if they are interested in nominating a local organization for a Community First Grant?
Tori: If you're interested in supporting an organization, the easiest foot in the door is volunteering. Just having a relationship with the organization is always important. That provides almost this kind of communication loop to know what it is an organization is working towards and some of their primary goals.
Lorrin: Getting out there and engaging with the organization and having conversations with the team about what their growth looks like and what support they need beyond volunteers. If you're nominating them for a grant, understanding what financial support they could use would be really great. And that all starts by getting out there, meeting them, and having a conversation.
Dianna: Our stakeholders are surprised to hear that we don't limit the amount of a grant that can go towards overhead expenses. Could you explain what overhead is and why it's important that more funders give focus to it?
Lorrin: As a nonprofit partner, we love finding foundations like Whole Cities Foundation who are willing to fund overhead expenses, which are kind of the administration side of our expenses — staff salaries, all those indirect costs that are part of running an organization.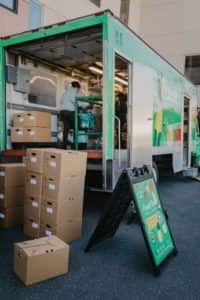 I like to remind people like we might be nonprofit, but we are business, and even though our bottom line looks different, we still need the capacity and the investments to execute on our work. We need the support and funds to do that, and that includes retaining the best people to do the job, having the infrastructure to build out the website and the market trucks, and everything that's included in that, to make sure that we can serve our communities to the best of our ability. I know it's not glamorous but we need that funding to keep the lights on and to keep our presence in the community strong.
Dianna: What happens to the leftover or non-sellable items?
Tori: I love this question because we don't have leftovers. But we do have non-sellable items —that happens when you're transporting food. Something we always tell our volunteers, If it's something that you wouldn't choose for yourself, don't put it in the bag or don't encourage someone else to buy it. We move those items into compost.
Our Fresh Truck Operations Manager, Francelino Marime, is working very closely with our team and always paying attention to the cadence of our markets and what shoppers are buying. So, we're forwarding those products that haven't sold onto the next market, the next day. It's kind of a nice little life cycle throughout the week. So generally, we don't have a lot of food waste by the end of the week because of the cadence of our markets and the volume that we're selling.
Dianna: What is your favorite and least favorite aspects of your jobs?
Tori: The best part: We get to do this work, we're honored to do this work. The worst part: We have to do this work. The fact that we have a food system that is not currently designed to adequately feed people, to get food to people, to maintain individual agency and purchasing power flexibility and things like that which we know people value in their daily lives. So, our job as a nonprofit is to put ourselves out of business. That's why we work on the advocacy level. That's why we work on the systems level.
Lorrin: I get to be a vehicle to tell the story of our work and all the superpower things that our program team does every day. And I get to talk to people who are equally passionate about food access and to tell you, we're doing really amazing things, and this is how you can impact your community. I love building those bridges for people who want to make a difference, but don't know where to start or don't know how. The tough part is that food access is such a big need, and it has become so significant over the past couple years. It's hard to be out there competing for funding. We're just one of the many organizations looking to fill that need.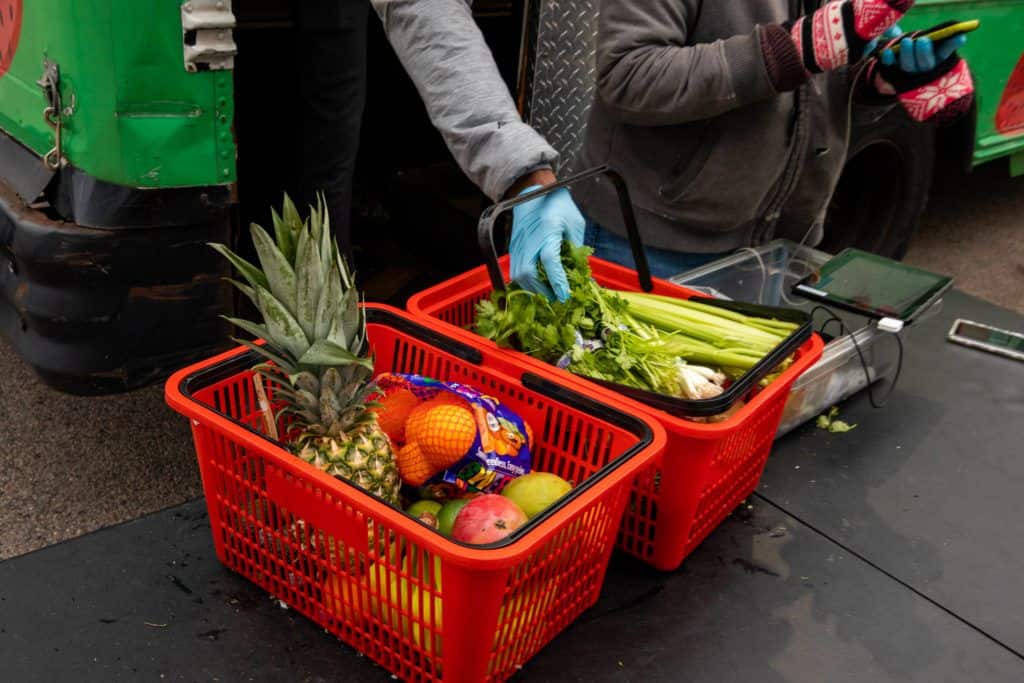 Dianna: What type of growth do you hope to see from Fresh Truck?
Tori: The biggest growth aspect with Fresh Truck is getting SNAP online, and allowing individuals that are using that payment method to process their payments online.
We're ultimately continuing to expand how people are able to access Fresh Truck and increase purchasing power, as well as activating our trucks more for advocacy spaces, activism spaces, and storytelling spaces around community.
Lorrin: We're going deep into Boston. We want to further enrich those relationships. We want to get out to locations that need us, and we're really focused on going as deep as possible to make an impact here where the markets can move where needed.
Whole Cities Foundation is honored to have played a small part in About Fresh's efforts, and greatly appreciate their team for opening their (truck) doors to us. We look forward to seeing how they continue to advance healthy food access and community health in Boston.
Are you a Whole Foods Market Team Member looking to support your community? Learn more about the 2022 Community First Grant program. Team Member nomination are open from May 3 through June 15, 2022.