The annual Community First Grant Program supports Whole Foods Market Team Members engaged with community-led nonprofits with programs focusing on long-term fresh, healthy food access creating a more equitable and sustainable local food system. Thanks to Team Member nominations, Whole Cities Foundation has awarded 342 Community First Grant in more than 120 cities investing $2,185,000 since launching the program in 2016.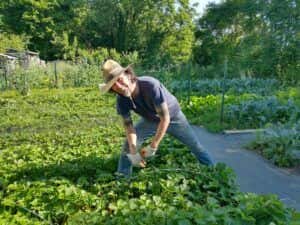 Now, as the 2022 Community First Grants are being announced, we're taking a closer look at one participating Team Member who is driven by a respect for the powerful work that already exists in his community and getting his hands dirty amplifying these efforts.
Brent Kirk is a store receiver at the Short Pump Whole Foods Market store in Glen Allen, Virginia. Both in and out of the store, he is committed to making fresh and healthy food accessible to his community. And, he's inspiring others to join him. This is his story.
Whole Cities Foundation (WCF): How did you get involved in your community?
Brent Kirk, Team Member: This past May, I got an email about the Whole Cities Foundation Community First Grant Program, and it sparked something. Although I had been thinking about volunteering for the past few years, I have a little girl, so she's taken up most of my free time. But the opportunity to grant $8,000 to a local organization that's making a difference and also satisfy my own desire to volunteer encouraged me to go for it. And I fully committed.  
WCF: How did you choose your community partner?
Brent: I narrowed my search down to three potential partners. One was a farm that I discovered was a massive operation with lots of financial support. The second focused on building gardens at schools, which aligns more with Whole Kids Foundation's mission. And then, there was Williams City Farms. It was exactly what I was looking for.  
WCF: Can you tell us a bit about the Williams City Farms?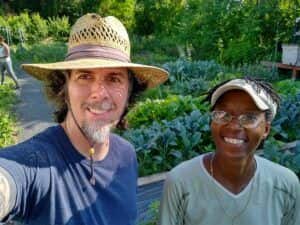 Brent: Williams City Farms is an urban farm established in 2019 and located in one of Richmond's under-resourced neighborhoods. It's run by Ms. Shana Williams. She bought the property herself and cleared it out for the sole purpose of educating and inspiring the adults and kids in her community so that they can grow food and be self-sufficient — an exact match for Whole Cities Foundation's mission. 
Shana has put a lot into this learning center that she calls the Williams City Farms. When I first went to the farm, I was impressed to see the amount of effort Shana puts into growing produce without pesticides. She is a high school PE teacher (I'm married to a teacher, so I know how much time and effort goes into that job!), track coach, and a two-time Olympic athlete. Yet, she still manages to take care of the Williams City Farms, harvest crops, teach people about farming, and donate the food she grows to local food banks.  
She's also created garden plant cards, which are quick reference guides that explain how to grow specific vegetables, fruits and flowers. For every set of cards she sells, she gives one set away. And back in 2020, her entire harvest of watermelon was stolen before she could donate them, but it did not deter her from what she is trying to accomplish.  
It was eye-opening to see how much time and energy the farm requires. But I wanted to stay committed even though it meant time away from my family and time spent working on the farm during my time off from Whole Foods Market.  
WCF: How do you help at the farm?
Brent: Most days, it's just me and Shana out there battling mosquitos and heat to clear weeds and grass from the soil. (But I have learned that sometimes growing grass with your crops can help!). I've learned about planting different vegetables in the same row and how they support each other's growth. I also learned about harvesting seeds. (And boy, did we ever harvest seeds, including mustard greens, kale and broccoli.) Plus, I've learned a lot about networking and sharing the experience too.  
WCF: Can you tell us more about that networking and how you are creating community partnerships to help the farm?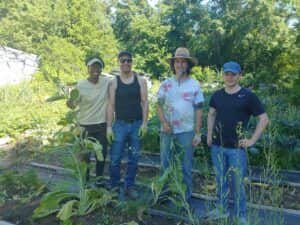 Brent: I reached out to our sister Whole Foods Market store in Richmond to get them involved too. They donated all of their end-of-the-year soil to the Williams City Farms. This was vital, as the soil needed added nutrients for the fall harvest. Shana had purchased a truckload of compost with money out of her own pocket but that didn't even cover the whole farm.  
Those seeds that we harvested will be started in outdoor seeding beds using multiple bags of seed starter that the Richmond Whole Foods Market store donated. Then these seedlings will be transplanted throughout the farm or into potting soil that the Richmond store also donated. So she can get them ready in the greenhouse for the farm planting and the community seed/plant giveaways.  
I also reached out to a gentleman who built the raised beds for my own garden at home and asked him about donating some new raised beds to replace the old ones at the farm. He agreed to help along with the already donated used planter containers and wood from the northside community and neighbors.  
WCF: Has your experience on the farm impacted your life when you're not on the farm?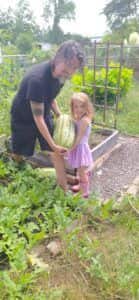 Brent: Now before all this, I was no gardener of vegetables though I did enjoy taking care of flowers around my house, inside and out. But this year, my wife and I committed to raised beds. We grew two very large watermelons, a ton of cucumbers and Sun Drop tomatoes (which my kid eats pretty much every day). My wife became especially passionate about the garden, taking care of it every day during her summer vacation. Next year, our plan is to grow strawberries in our front yard, so the folks in our neighborhood can pick some when walking by.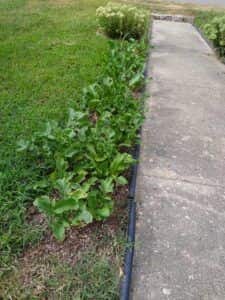 My mom has always had a green thumb. I remember when I was growing up, she was constantly in the garden growing something. She currently lives down in St. Petersburg, Florida, runs two community gardens, and lives on all the food she grows. She also harvests her seeds every year, so she sent me an entire box of different seeds to share with Shana and the farm. I gave Shana a lot of them and kept some for myself. I started growing arugula and swiss chard in my front yard. They are growing like crazy, and it is some of the best tasting arugula I've ever had. 
WCF: How have your expectations and goals changed since you started volunteering at the Williams City Farms?
Brent: My goal at the beginning was to put my best effort into helping Shana and recruiting volunteers. I thought I would work once or twice a month. But once I started, I knew I had to work more and ended up working once or twice a week. I am happy with the outcome and satisfaction I get at seeing how much work I did and knowing if I wasn't there, Shana would have so much more work to get done. This experience has been hard work but is very rewarding.  
---
True to his original intent, Brent has recruited volunteers from Whole Foods Market. So, when Brent nominated a 2022 Community First Grant for the Williams City Farms, these volunteers, like Angela Lloyd, also shared their support.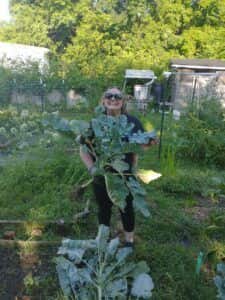 Angela, a lead receiver at the Short Pump Whole Foods Market store, wrote, "I'm rooting so hard right now for Williams City Farms! Spending time with Shana and seeing all that she does for her community is so inspiring, and I really hope her farm gets chosen for a Community First Grant. I'm in awe of how selfless her dream is and with her own hands, she's accomplished so much of it. I can only imagine what more goodness she can bring to Richmond if given the funds to continue forward. Being front seat to the whole process has also been eye-opening for me because I've had the opportunity to see Whole Cities Foundation in action and possibly have a huge impact on my own community. It's no longer something I've read about but something I've experienced, and that helps keep the culture alive and well here in Short Pump." 
Learn more about the Community First Grant including the 2022 grantees and the team members like Brent Kirk who nominated them here.  
---
Recent Blog Posts