The Community First Grant Program supports nonprofits focused on long-term fresh, healthy food access and nutrition education that are engaged with Team Members. This includes community gardens, mobile markets, healthy cooking classes and more.
To date, we have invested $1.3million with 135 organizations serving more than 100 communities across the U.S. (and one in Canada) with the help of Team Members who both nominate the organizations and commit to volunteering with them during the grant.
Questions? Email Nikki.Newman@wholefoods.com or read through the 2021 FAQ.
Congrats to 44 Team Members that nominated 63 organizations to apply for an $8,000 grant!
Florida Region
Lauren O'Mara, Orlando Metro, Orlando, FL
Global Support
Amy Bell, Global Support, Austin, TX
Lisa Edwards, Global Support, Austin, TX
Kimberly Damboise, Global Support, Hillsborough, NH
Mid-Atlantic Region
Carol Kingsmore, Marlton Store, Marlton, NJ
Midwest Region
Gennaro Galtieri, Lexington Store, Lexington, KY
Catherine Kiely, Lexington Store, Lexington, KY
Julie Wainwright, Midtown Detroit Store, Detroit, MI
Edward Whittington, Galleria Store, St. Louis, MO
North Atlantic Region
James Clancy, Fresh Pond Store, Cambridge, MA
Kerrie D'Ercole, South Weymouth Store, South Weymouth, MA
Erin Marshall, Wynnewood Store, Wynnewood, PA
Chuck Olivieri, South End (Ink Block) Store, Boston, MA
Kristyne Potter, Fresh Pond Store, Cambridge, MA
Debby Tamborella, Hingham Store, Hingham, MA
Nichole Vilandre, Bedford Store, Bedford, MA
Jennifer Desrosiers, Portsmouth Store, Portsmouth, NH
Northeast Region
Maryann Young, Third and 3rd Store, Brooklyn, NY
Northern California Region
Jess Moreles, Los Gatos Store, Los Gatos, CA
Julie Atkins, Northern California Regional Support Office, Emeryville, CA
Beth Plevy Wyland, Northern California Regional Support Office, Emeryville, CA
Pacific Northwest Region
Leah Abell, Pacific Northwest Regional Office, Seattle, WA
Kate Conway, Bellingham Lakeway Store, Bellingham, WA
Nicole Meinzer, Bellingham Lakeway Store, Bellingham, WA
Meredith Facey, Cambie Store, Vancouver, BC
Shawn Gross, Pacific Northwest Regional Office, Seattle, WA
Alayna Williamson, Westlake Center Store, Seattle, WA
Rocky Mountain Region
Joshua Coyle, Rocky Mountain Regional Office, Denver, CO
Trevor Doner, Rocky Mountain Regional Office, Denver, CO
Sarah Palki, Rocky Mountain Regional Office, Denver, CO
South Region
Lexi Adams, Poplar Avenue Store, Memphis, TN
Erwin Davenport, Cary Store, Cary, NC
Katie Laflin, Sharon Road Store, Charlotte, NC
Mitchell Mayfield, Cross Hill Road Store, Columbia, SC
Deric Sallas, Montgomery Store, Montgomery, AL
Dolly Fields, Tallahassee Store, Tallahassee, FL
Southern Pacific Region
Michaela Rhine, Scottsdale Store, Scottsdale, AZ
Glenn Vilar, Long Beach Store, Long Beach, CA
Southwest Region
Freddie Cavazos, Lakewood Store, Dallas, TX
Mae Cranford, Midtown Houston Store, Houston, TX
Charlotte Hall, Bowman Store, Little Rock, AR
Victor Paganuzzi, Veterans Store, New Orleans, LA
Tobias Markey, Oklahoma City Store, Oklahoma City, OK
Roberto Somavilla, Park Lane Store, Dallas, TX
---
Important Dates
Mark your calendar with important CFG dates. Some dates subject to change.
| | |
| --- | --- |
| 3/24 | Q&A Call > Option 1 |
| 3/25 | Q&A Call > Option 2 |
| 4/26 | Team Member Nomination Opens |
| 5/5 | Nomination Q&A Call > Option 1 |
| 5/20 | Nomination Q&A Call > Option 2 |
| 5/28 | Team Member Nomination Closes |
| July | Eligible Community Partners Invited to Apply |
| August | Community Partners' Applications Due |
| Mid-October | CFG Partners Announced |
---
Help spread the word about the Community First Grant!
Print an 8.5″x11″ poster to hang by time clocks, in break rooms and post in logbooks.
Download huddle topics about Whole Cities and Community First:
---
Q&A Calls
Watch a recording from our Q&A call to learn about Whole Cities, the CFG program, how to find a local community partner, tips for submitting a partner recommendation and more.
Download a copy of the Q&A presentation here.
---
Community First Grant Participation Per Region, Per Year
In 2021, we're challenging regions to each have 10 qualified nonprofit Team Member nominations!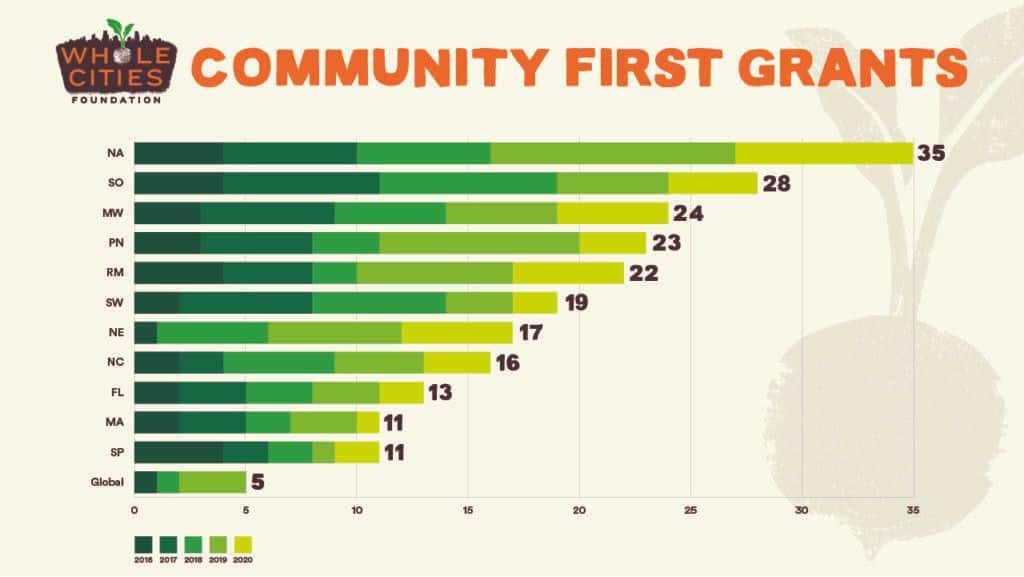 ---
Team Member Eligibility
To nominate a community partner, you must:
Must be a Whole Foods Market Team Member in good standing.
Ask your STL to complete an STL Support Form by May 28. If you're an office TM please have your Team Leader complete the form and if you're a Facilities TM, please have your FTL complete the form.
Volunteering with your nonprofit community partner must be done on personal time. No compensation will be provided from Whole Foods Market or Whole Cities Foundation.
Must be willing to submit a short mid-year and end of the year update including a brief summary of how things are going and photos of your partnership in action.
Interested in participating?
This is a snapshot of what it looks like:
Volunteering: CFG Team Members volunteer with their community partner throughout the year. From monthly days in a community garden to hosting a mobile market team in your store to talk about merchandising, this can take any shape that works for you partner and your store and keeps everyone safe in the process.
Connecting: CFG Team Members will be invited to occasional webinars and calls by the Whole Cities team designed to share best practices, support CFG partnerships, and keep CFG TM in the loop on upcoming deadlines and opportunities. These calls will be recorded, so that TM who are unable to join or do not have approval from their TL to join live, can still access them.
Spreading the Word: Some of the strongest partnerships start off with one passionate Team Member and grow to include dozens of Team Members from their store or even multiple stores! CFG Team Members who spread the word about their amazing community partner and upcoming volunteer opportunities can build momentum for their partnership. This could include sharing information about your partnership at team huddles or posting a signup sheet for a volunteer day in BOH.
Community First Grant Process: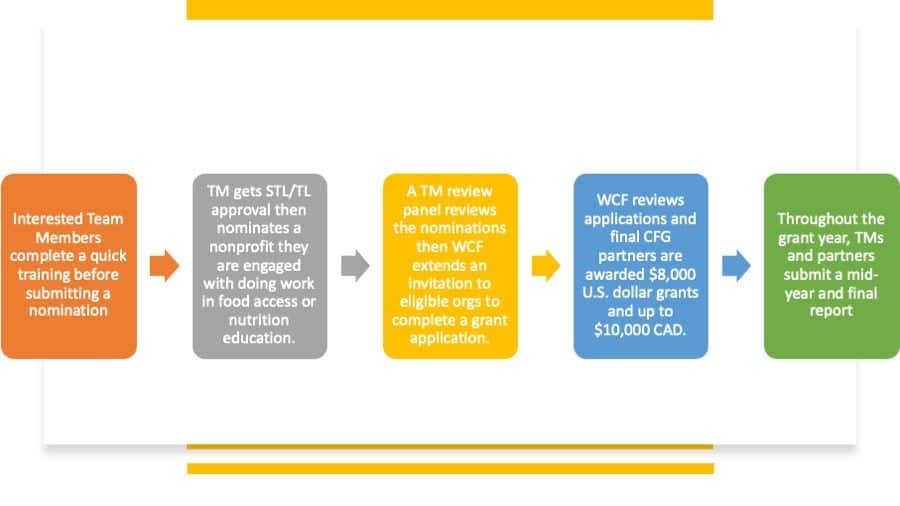 ---
Learn more about the CFG Program and how WFM Team Members play an integral role in engaging with partners and expanding healthy food access in their local communities!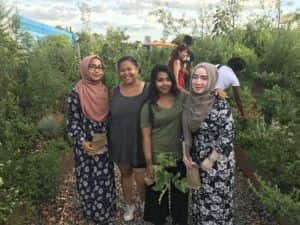 Staying True to Whole Foods Market's Core Values Through Community First Grants
Through the Community First Grant, Team Members are bringing to life Whole Foods Market's Core Values as they work to make fresh and healthy food accessible to all in their community. Take a closer look at one dedicated Whole Foods Market store, Brooklyn's Third and 3rd, in the Northeast region that has secured 15 Community First Grants in five years.
Hear from Maryann Young, a Prepared Foods Team Member, and Jinah Kim, an STL, with their advice on how to better their community and the lives of Team Members through the Community First Grant. Read more.
---
Resources