Detroit is where the vision, heart and principles of Whole Cities Foundation were born using communities' self-determined needs and desires as the lens for decision-making. In tandem and using the same people-centered approach, our Nutrition Program Director Dr. Akua Woolbright created and launched Let's Talk Food, a nutrition and personal coaching program.
Let's Talk Food's personalized approach enables participants to live their fullest, healthiest lives and move towards a more whole foods, plant-based, nutrient-dense diet. The program champions increased access to quality nutrition education and support for all people who are ready to take charge of their health — no matter where they are in their health and wellness journey.
Within the framework of Let's Talk Food, Dr. Akua conducts weekly healthy eating lectures, cooking demonstrations and support groups for hundreds of her students in Detroit, Chicago, Newark, and other cities across the U.S.
Get inspired for how to start your healthy eating journey.
---
Meet Dr. Akua Woolbright | Whole Cities Nutrition Program Director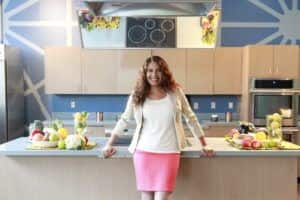 I grew up on a small farm in rural, Texas, nurtured by fresh fruits and vegetables from the land. My grandmother cooked full meals from scratch every day. If I wanted a snack, I went outside to our large garden and grabbed a juicy ripe tomato right off the vine, wiped it on my pant leg and ate it.
We were surrounded by bounty. There were berry vines and fruit and nut trees heavy with delicious pears, pecans, persimmons, and plums. A typical after-school snack might include corn on the cob or a baked sweet potato. We drank fresh well water straight from the tap.
This was my introduction to plant-based living. My grandfather was a country Baptist pastor with a tireless commitment to service and supporting people's positive life changes. I am inspired by his example as I work to help people transform their health—a path I see as my spiritual calling.
I've dedicated my career to becoming a trusted resource and advocate for helping people take control of their personal wellness journeys. Through my work with Whole Foods Market and now Whole Cities Foundation, I promise my students that my program will be the go-to place for sound nutrition advice, then I work hard to earn and keep their trust.
My career with Whole Foods Market brought me to Detroit, where I currently reside with my young son. My work in Detroit paved the way for me becoming the founding member and Nutrition Program Director of Whole Cities Foundation, the third foundation of Whole Foods Market, where I run the organization's signature national nutrition program.
Learn more about Dr. Akua in her audio story and blog posts: