Our Nutrition Program Director Dr. Akua Woolbright created and launched Let's Talk Food to help support individuals and communities to take control of their health. Through this nutrition and personal coaching program, she conducts healthy eating lectures, cooking demonstrations and support groups across the U.S. giving participants the knowledge, tools and inspiration they need to move towards a more whole foods, plant-based, nutrient-dense diet.
Whole Foods, Plant Based
Dr. Akua's approach to eating starts with this mantra. It serves as a reminder to focus on foods that are straight from the earth. She encourages her students to eat mainly plants by eating colorful produce throughout the day. This act of self-care not only nourishes you but helps you move closer to overall health and wellbeing.
The "Whole foods, plant based" mantra sounds straightforward enough but many people want to know what it looks like in practice. In fact, we weren't surprised to hear that people who recognize Dr. Akua at restaurants frequently ask what she's eating, and at the grocery store, they peek into her cart to see what she's buying!
Thankfully for them (and the rest of us), Dr. Akua recently shared her favorites things for the spring. These ideas and tips offer simple, delicious ways to add more whole foods, plant-based foods to your day.
Fruit Bowls
A bowl of colorful fruit can be a great nutrient-dense snack or breakfast. Here are three combinations Dr. Akua recommends: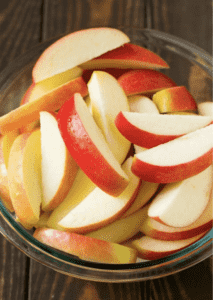 Apple Slices + Blueberries + Walnuts
Apple Cubes + Blueberries + Walnuts + Dark Chocolate + Unsweetened Coconut Flakes
Blueberries + Pomegranate Seeds + Walnuts
Tips
Akua finds that the fruit-nut pairing helps curb her sweet tooth.
Add a favorite drink. Dr. Akua sometimes reaches for Teas' Tea*, hot tea or kombucha when she's enjoying a fruit bowl.
Nutrition Notes
Apples — Apples are not only rich in flavonoids and other polyphenols, they are also high in pectin, a soluble dietary fiber.
Blueberries — Blueberries are recognized for their high antioxidant content.
Pomegranates — These are a good source of vitamin C and have modest amounts of vitamins A and E as well as folic acid. Plus, they are higher in antioxidants than blueberries and cranberries.
Walnuts — Walnuts contain omega-3 fatty acids, a heart-healthy compound.
Grab & Go Snacks
In addition to nonperishable snacks like nuts and seeds that may already be stashed in your car or backpack, take time to prepare and bring along fresh produce too. Here are a few easy ideas: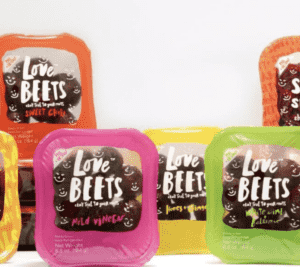 Love Beets*. These ready-to-eat baby beets are peeled and sized for snacks (or salads and grain bowls). Look for flavors like garlic herb and organic mild vinegar.
Baby carrots and baby cucumbers. Simply slice and enjoy, or dip in hummus.
Cherry tomatoes with hummus or bean dip.
Pomegranate seeds. Grab a no-fuss snack cup and spoon then dig in.
Nutrition Notes
Beets — Beet roots are a source of fiber, folate, potassium, iron, magnesium, manganese and vitamin C.
Carrots — Carrots are loaded with vitamin A.
Cucumbers — Cucumbers are 95% water, so they have minimal calories.
Pomegranates — These are a good source of vitamin C and have modest amounts of vitamins A and E as well as folic acid. Plus, they are higher in antioxidants than blueberries and cranberries.
Tomatoes — Tomatoes are a source of vitamins A, C and K, potassium and the antioxidant lycopene. The redder the tomato, the more lycopene it contains.
Replace the Carbs with These Swaps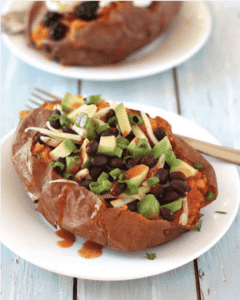 Dr. Akua points out that a goal of whole foods, plant-based eating is to decrease the things you don't want (such as excess sugar, salt, simple carbohydrates, fat and calories) and to increase the things you do want (like more vitamins, minerals, antioxidants and micronutrients).
One way is to replace the simple carbohydrates found in crackers, breads and tortilla wraps is to use produce. Here's how:
Swap crackers for sliced cucumbers. Example: Top chilled sliced cucumbers with tuna.
Swap white tortillas and bread with romaine lettuce boats. Example: Stuff romaine lettuce leaves with store-made hummus or DIY by puréeing white beans and season to taste. Then add cherry tomatoes, chopped red onion, grated carrots and bean sprouts to create a big wrap.
Swap tortillas with baked sweet potatoes. Example: Stuff a baked sweet potato with beans, sautéed kale and garlic or mushrooms. Top with a drizzle of cilantro avocado dressing or salsa.
Bonus Tips from Dr. Akua
Get inspired and mix and match produce in a way that brings you joy and pleasure!
Make a breakfast bowl by topping cooked steel cut oats with berries or pomegranate seeds. Or add the fruit on the bottom of the bowl with a little cinnamon, nutmeg and a touch of agave. Then top with oatmeal.
Try a salad for breakfast.
Take a closer look at your salad dressings and opt for healthful options like oil-free dressings. Or DIY by drizzling a little apple cider vinegar, citrus juice or flavored vinegars like Lucini Artisan Vinegars* over your salad.
Dr. Akua's challenge for you: How many whole foods, plant-based foods can you add to your plate today?
Learn More
Check out Meet Dr. Akua Woolbright of Let's Talk Food on our Healthy Food for All Podcast to learn more steps you can take today to make healthier choices. And if you're looking for mealtime inspiration, check out our plant-based recipes and discover cooking techniques too.
*Products vary between Whole Foods Market locations. Check with your local store for availability.
---
Enjoy this post? We've got more.