Whole Cities Foundation believes that community members know best. Guided by our Community First Principles, we have a deep respect for the powerful work that exists in local food systems, so we aim to listen carefully to community-led organizations to understand their specific needs, then support and amplify their efforts. The goal of partner spotlights like this is to share their stories, create connections and help spark inspiration for other organizations on their journey of community self-determination.
---
As we work to improve community health through collaborative partnerships, Whole Cities Foundation strives to Be honest and open in our thoughts and words (one of our seven Community First Principles). We don't have to look any further than our own community partner Viva Farms in Northwest Washington to find this value in action on a daily basis.  
Meet Viva Farms
119 acres. Three locations. 35 farm businesses. 50 owner operators. All working as one. Viva Farms is a non-profit farm business incubator and training program lowering the barriers for beginning farmers and creating the opportunity for success in one of the nation's most threatened agricultural regions.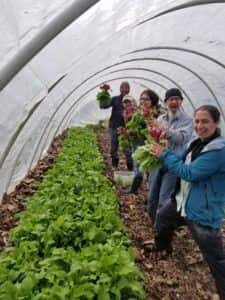 Despite having some of the most productive soil in the world, Western Washington is facing a crisis as farmers are retiring without replacements and the number of farms, produce processing facilities and farmland acreage are decreasing. The disappearance of these vital components threatens the region's food economy.
Viva Farms aims to empower aspiring and limited-resource farmers by providing bilingual training in holistic organic farming practices, as well as access to land, infrastructure, equipment, marketing and capital. So far, the organization has educated more than 1,000 farmers (including more than 350 Spanish speakers) in sustainable organic farming.
Viva Farms' hope is that with the knowledge, experience and passion for producing healthy food in a sustainable way, today's aspiring farmers will become part of the solution to creating a strong and just local food system that can nourish the community for generations to come.


The Role of Trust and Honesty
The success of Viva Farms and its farmers can't be solely credited to the resources the nonprofit provides such as land, infrastructure, capital and education. Other important but less tangible building blocks are community, trust and honesty.
David Alvarez, Communications Manager at Viva Farms, points to the organization's vision statement: Together, we preserve sustainable farming by creating a strong and just local food system. It all begins together. Viva Farms and its farmers create and maintain thriving relationships through trust and honesty to advance the health of their community, together.
"We were founded with farmers at our center and have walked alongside them for over a decade listening to, learning from, and adapting to what they say they need to be successful. Due to the nature of our program, we are accessible to farmers daily, have monthly group farmer meetings, and consistently ask for and receive their input. This approach has established Viva as a trusted partner resulting in a deeper connection and farmers' willingness to share both personal and business details with us in order for us to deliver the most effective technical assistance," David explains.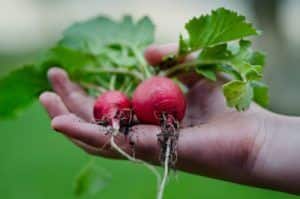 The significance of honesty and trust within collaborative partnerships is clear in Viva Farms' day-to-day operations. The organization supports their farmers with financial consulting (e.g. loans, grants and capital) and certification acquisition (e.g. USDA organic and animal welfare), which require farmers to share confidential information with Viva Farms staff such as their profit and loss statements, schedule F taxes and farm records. David points out that it is imperative that both parties cooperate in a respectful and effective manner.
In addition, Viva Farms depends on honesty to maintain their own organic certification. Viva Farms (and their 119 acres across three locations) is certified organic, which means that all of the incubating farmers must adhere to the standards and practices of the National Organic Program. If any farmers deviate from these practices, it could jeopardize the organic certification the organization has had for nine years.
Viva Farms also credits honesty as a one of the reasons for their high-quality produce. Honest, open and constant communication with their partnering farmers means that some conversations are difficult, but in the end, David explains that together they raise the bar and ensure Viva Farms is meeting customers' expectations.
Approaching Relationships as Partners
The relationships between the Viva Farms staff and their farmers are symbiotic because they all need each other. David explains, "We are here for, and because of them. While balancing the need for Viva's own sustainability, we consistently ask ourselves, "What's best for the farmers?"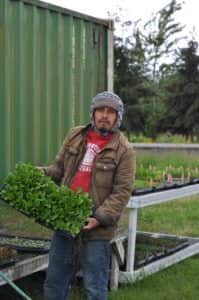 David explains that the Viva Farms staff meets the farmers where they are and delivers the highest service possible to address each individual farmer's needs. The Viva Farms team openly collaborates with their farmers to ensure positive outcomes while evolving or working to match current realities. 
David maps out how relationships with farmers often begin and what makes them work: "Typically, we get to know each other through the delivery of our eight-month Practicum in Sustainable Agriculture. This is the first step in Viva's training program, and where students farm together with Viva team members over a full farming season. In the classroom and in the fields, we start our journey shoulder-to-shoulder becoming partners, relying on each other to show up, to do our part, and to invest in the community that nourishes all of us."
A Community of Growers, Not Competitors
Facilitating community is also a critical and unique piece of Viva Farms' model. The shared goal of creating a strong and just local food system keeps the Viva Farms community working together as one.  
"Season after season, we watch new farmers and experienced farmers share farming knowledge and equipment, help each other with constructing greenhouses, making large purchases together, and relying on each other for support," David explains. "Viva and the farmers have demonstrated that working together is more successful than working in isolation." 
Grace Lemley, a first-year farmer with Viva Farms agrees, "There is no competition because we all help each other, and everybody has to eat!" 
Whole Cities Foundation is proud to support and amplify the efforts of Viva Farms as they grow farmers, community and food through trust and honesty.  
---
Recent Blog Posts