We are thrilled to announce that we are awarding 40 community-led organizations $8,000 each to advance fresh food access through the annual Community First Grant. This $320,000 commitment in local initiatives is being invested in 33 cities spanning 21 states!
At Whole Cities Foundation, we believe that homegrown initiatives have the best chance of creating lasting change. So, the Community First Grant program supports community-led nonprofits with initiatives focused on creating long-term fresh, healthy food access and more equitable and sustainable local food systems. At the heart of the program is a deep respect for the powerful work that already exists in local food systems and a desire to amplify these efforts.
Since launching the Community First Grant Program in 2016, we have awarded 226 grants in more than 100 cities, investing $1,260,000.
The 2020 Community First Grant Partners
Check out this year's 40 grant partners here. Each has been awarded $8,000 to support their projects, which include:
12 urban farms
8 agricultural skills development programs
7 community gardens
4 mobile markets
4 pop-up markets and CSAs
3 SNAP and WIC incentive programs
2 farmer's markets
You can also meet two grant partners — Roots Rising in Pittsfield, Mass. and Hebni Nutrition Consultants in Orlando, Fla. — on our Healthy Food for All Podcast.
The Challenges
During the pandemic, our grant partners' work is more important than ever and yet, they are dealing with new challenges such as fewer volunteers able to contribute time, limits on group gatherings, social distancing, financial burdens, and more.
The last few months have highlighted the strengths of these uniquely positioned organizations.
They are reimagining their programs and championing innovative ways to grow community health during the pandemic. Some grant partners have taken their cooking and nutrition classes and CSAs online, while other partners are offering drive up markets or contactless curbside options. (Check out our blog post on urban farms and community gardens for more.)
"While our grant partners have adapted their work this year, what remains unchanged is their local connection because their great work is powered by community members," explains Dianna Purcell, our Senior Grant Programs Manager. "They are still able to do what is needed and are being recognized for the essential workers that they are — and have always been."
The Changes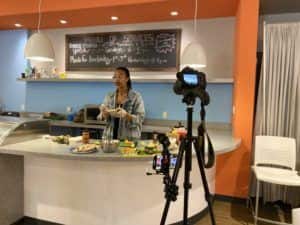 At Whole Cities Foundation, our partnerships start with our Community First Principles, which includes listening to neighborhood challenges, recognizing what already works well and expanding on the solutions set in place by the community. Our support evolves based on our partners' insights and feedback — partners such as New Hampshire-based, Grow Nashua, which brings families together with a common goal of strengthening their community while learning to farm and harvest their own fresh vegetables.
"We will be forever grateful to Whole Cities Foundation during the uncertain times of the pandemic. Their autonomy allowed us to modify our outreach grant efforts to serve the communities needs throughout this period and into today," Justin Munroe, Executive Director of Grow Nashua. "Our community is stronger as a result in the arena of food, where we continue to implement and promote strategies that transition us from being food consumers to food producers."
This year, being responsive to our partners' needs has meant changes to both the grant and the grant process to expedite funding and strengthen our commitment to current and past grantees.
In past years, Whole Foods Market Team Members (employees) in the U.S. and Canada nominated eligible nonprofit organizations for the grant. This year, however, this nomination process was replaced by an invitation to apply for all 137 current and past Community First Grant partners. The applications were then reviewed by a committee comprised of 24 Team Members from across the country in a variety of roles.
In addition, we have increased the grant size from $5,000 to $8,000, so we can reenergize partnerships and deepen our investments to organizations that Team Members champion.
"This is a year of big change, and Whole Cities Foundation is honored to support the work of organizations who are at the forefront of ensuring healthy food access in their neighborhoods during this critical time and for the long term," explains Dianna.
Learn more about the Community First Grant including past community partners and the team members who nominated them here.