Our Community First Principles define our approach to building partnerships with community-led organizations to build thriving local food systems and grow community health. They help us meet the needs and reflect the desires of the people we serve, be respectful and responsive to different perspectives, and increase access to fresh food. Through our Community First Principles blog series, we are spotlighting our seven principles in action and examining what it means to bring to life the Whole Foods Market Core Value of "caring for our communities and the environment."
At Whole Cities Foundation, we strive to focus our work on meeting the needs and reflecting the desires of the community. It is both a founding principle and daily driver. We are not alone in this belief.
Newark Community Food System (NCFS) is a non-partisan, grassroots collective that supports and develops sustainability efforts in urban agriculture, wellness and nutrition in Newark, New Jersey. The nonprofit works to empower residents to become actively involved in reshaping their food system, while gaining control of their health and environment.
Tapping into the groundswell of leadership and momentum in urban agriculture in a city with a history of activism, NCFS was founded in 2018 by Tobias Fox and other highly engaged community leaders with the support of the nonprofit Newark Science and Sustainability Inc. (Newark SAS) and Whole Cities Foundation.
Collaboration at its Core
Since its founding, the collective has worked in a deeply collaborative way to foster a sustainable local food system based on needs identified by the greater community. Beyond the food system, the group also aims to influence renewable energy, the visual arts, ecological building, and health care throughout the Greater Newark community.
As it grows a sustainable community in Newark, NCFS has adopted a two-pronged approach: collaboration and agriculture education.
Here is how they do it.
However, by working under the umbrella of a collective, Tobias realized that he and other urban growers could help one another, boost each other's efforts, and potentially put themselves in a broader spotlight. When they work together, "Your success becomes my success and vice versa," explains Fox. This realization helped to pave the way of what would become NCFS.
Since its founding, NCFS members have represented a wide range of backgrounds and experiences. This was critical to the organization's success in helping to support and develop effective community-led initiatives.
With a background in creative arts, book publishing, urban farming and community organizing, Fox had learned through trial and error the importance of leveraging different experiences in community-led problem solving. Fox explains, "I needed to build a nonprofit with more diverse skills, not only agriculture skills, because I had learned how successful collaboration works. There has to be more diversity. So, our first year was laying down that foundation."
As NCFS grows its membership and builds as an intellectual hub, it continues seeking out local experts in the areas of agriculture, horticulture, nutrition, health and wellness, as well as government decision makers, educators, college students, business owners and representatives of neighborhood associations. Focusing on collaboration, the organization is also on full display in its role as a community liaison connecting community members working in urban agriculture, healthy food access, and nutrition education while working side-by-side with community leaders and local grassroots agricultural organizations.
Agricultural Education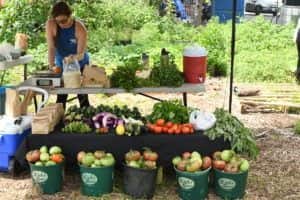 Working in tandem with their focus on collaboration, NCFS also fosters ongoing learning opportunities through annual community events and mentorships.
With help from Newark SAS, NCFS facilitates three signature annual events focused on sustainable living practices and the impact of urban agriculture. Engaging the community, addressing community needs, and promoting local action and involvement are at the heart of each event. The annual events include:
Spring—Sustainable Living Empowerment Conference
Summer—Newark's Harvest: A Citywide Garden Tour
Summer/Fall—Harvest Table: A Farm to Table Community Meal
In addition, on behalf of NCFS, Tobias Fox and co-chair Emilio Panasci provide support for Whole Cities Foundation's 2021 Newark Fresh, Healthy Food Access Grant Partners through Garden Hours. These one-on-one sessions provide direct resource support, knowledge sharing and guidance for overcoming specific challenges and reaching goals. Each of the current Newark grantees can sign up for up to 16 hours during the year.
"The garden hours allow for some mentorship and guidance from experienced urban growers who are also very familiar with the workings of the City of Newark, so that other growers can learn from experiences and gain social connections that will help them with the challenges they may face," explains Emilio Panasci, Co-chair of Newark Community Food System and Co-founder of the Urban Agriculture Cooperative. "The garden hours are on a range of topics from land tenure, non-profit management, where to identify contractors, advice on approaching city departments or dealing with policy concerns, markets and enterprise assistance, and general programmatic support."
Growing Together
NCFS has grown year-over-year since its founding. New members help to increase the expertise and evolve the ideas needed to meet the community's needs.
"NCFS has created a consistent forum for communication among local growers that has produced real tangible work together including the Citywide Garden Tour and several green development proposals. It has also led to many tangential benefits like strengthening relationships between the growers to address a variety of smaller issues and to increase their direct partnerships," says Panasci.
Now in its third year, NCFS's focus is on organizing through two working groups.
NCFS Signature Events Working Group. Its purpose is to assist with the strategic planning, budgeting and organizing of NCFS's signature events.
NCFS Land Tenure Working Group. This group serves as a resource for local growers seeking to transition from leaseholder to landowner for the purpose of providing residents with more access to fresh, locally grown produce and hands-on learning opportunities. The group has created innovative leaseholder-to-landowner proposals, is engaged in knowledge sharing and advocates for the long-term sustainability of gardens and/or urban farms across Newark.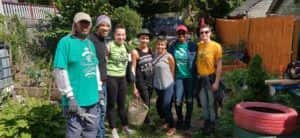 Partners in Action
The relationship between Whole Cities Foundation and some members of NCFS such as Fox and Panasci was sparked through our Newark Fresh, Healthy Food Access Grant program — a few years before NCFS was founded.
"This was a game changer for people like myself operating on this very localized, grassroots level because we weren't getting any funding. Many of us were living in the shadows of the more established, nonprofit organizations. Whole Cities Foundation happened to see potential and started to make investments by offering Fresh, Healthy Food Access Grants," explains Fox.
The appreciation goes both ways.
"We've had the honor of collaborating with Tobias and Emilio every year Whole Cities Foundation has worked with community members in Newark. They are both phenomenal leaders who care deeply about the health of their community and have the energy and drive needed to take action," says Dianna Purcell, our Senior Grant Programs Manager at Whole Cities Foundation. "I value them both as thought partners. Their ideas and insight make our work more relevant and impactful."
Today, by working within the framework of NCFS, Fox, Panasci and other NCFS members are delivering that same valuable support to many community partners. "I love that the Newark Community Food System balances going wide — by inviting the whole community to their three signature events — and going deep — by providing mentorship and a platform for collaboration for growers," adds Purcell.
Whole Cities Foundation has invested $60,000 in NCFS since 2018 and pledged another $30,000 in 2021.
Read More of our Latest Blog Posts