Newark Fresh, Healthy Food Access Grant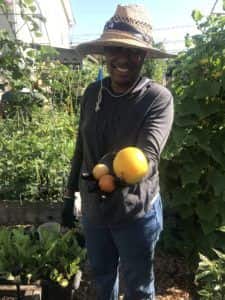 In 2017, we launched the Newark Fresh, Healthy Food Access Grant program with the help of our founder Whole Foods Market. This grant's goal is to grow the local food system and improve community health across all five wards in Newark.
Here's how it works: Newark-led organizations with fresh, healthy food access and community health projects are invited to apply for funding between $5,000 and $20,000. Then, we review applications with the help of the Newark Community Advisory Council, a rotating panel of Newark leaders. (The council's community members have each lived and/or worked in Newark for at least two decades.) Grantees are determined by the sustainability of their projects and their alignment with our mission.
We prioritize food access work by locally-driven nonprofits that reflect and engage the Newark community. Our grant partners have included community gardens, urban farms, farmers' markets, mobile markets, healthy cooking classes, agriculture skills development programs, and other initiatives advancing healthy food access.
Since the Newark Fresh, Healthy Food Access Grant program's launch, Whole Cities Foundation has awarded more than $1 million to 33 organizations across all five wards.
We Love Feedback
For the past 6 years, Whole Cities Foundation has been fortunate to work with organizations across Newark. As we planned for the next 3 years, we asked Newarkers how we could improve and what we should keep the same. See how we've incorporated this feedback into our work by checking out our list of things that will change and won't change in 2023.
Explore Newark Blog Posts:
Meet the 2019 Grantees:
Meet the 2018 Grantees:
Meet the 2017 Grantees: